Radar Movers: America Still Hooked on Apple iPhone, VeriFone Plunges 14%
Shares of VeriFone Systems (NYSE:PAY) plunged more than 14 percent in late afternoon hours. The company reported quarterly earnings of 42 cents per share on revenue of $430 million, missing expectations for 47 cents per share on revenue of $440 million. Richard McGinn, interim chief executive officer, said, "We are keenly aware of the significant short-term challenges impacting our fiscal year 2013 financial results. To regain our momentum, we are addressing the critical issues head-on."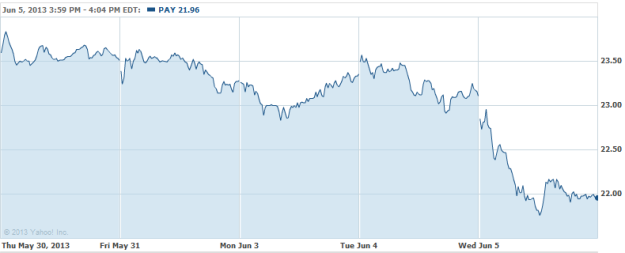 Las Vegas Sands (NYSE:LVS) shares edged slightly higher in late afternoon trading. The casino operator announced it will repurchase up to $2 billion of its shares. "I am extremely proud to announce that the company's outstanding financial performance, together with our expanding cash flows and strong balance sheet, has enabled us to initiate a multi-year share repurchase program," said Mr. Sheldon G. Adelson, chairman and chief executive officer.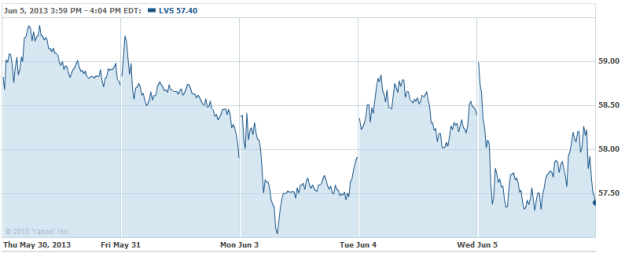 Shares of General Motors (NYSE:GM) dipped 2.7 percent on Wednesday, but edged higher in late afternoon hours. The U.S. Treasury Department announced that it will begin another round of sales of the company's stock it acquired as part of the financial bailout known as the Troubled Asset Relief Program. The news reflects another step in the right direction for GM who has been making many headlines in the last month with its optimistic news. Previously snubbed, "Government Motors," GM's shares rose above its initial public offering price for the first time since 2010 in May. Shares of Ford (NYSE:F) fell more than 3 percent.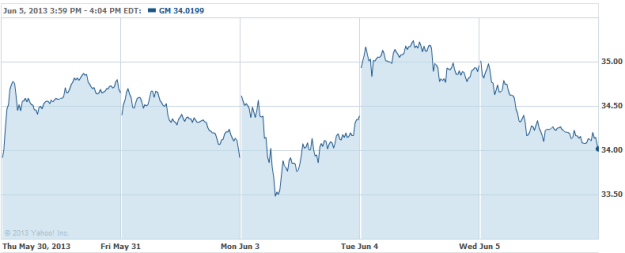 Apple (NASDAQ:AAPL) shares declined nearly 1 percent on Wednesday, but the tech giant received positive news on its market share. New data from comScore reveals that Apple is growing its share of the U.S. smartphone market faster than its rival Samsung. The report covered the three-month period that ended in April 2013. According to comScore's statistics, Apple ranks as the number one smartphone manufacturer in the U.S. with a 39.2 percent share of the original equipment manufacturer market. Samsung (SSNLF.PK) was ranked second with a 22 percent OEM market share.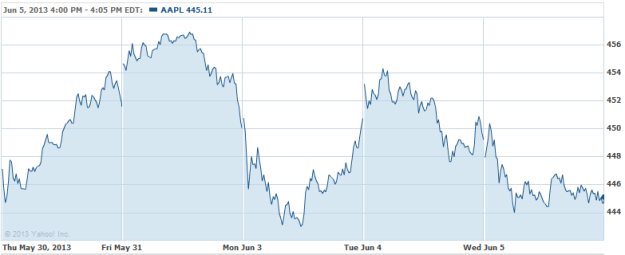 Don't Miss: 3 Stocks for Summertime Fun
Follow Eric on Twitter (@Mr_Eric_WSCS)