Radar Movers: Apple and CBS Climb Higher, eBay Reports Q4 Earnings
Apple (NASDAQ:AAPL) received support today as shares jumped more than 4 percent and continue to edge higher in late afternoon trading. KGI Securities analyst Ming-Chi Kuo predicts two new versions of the iPhone this year in addition to an upgraded iPad mini with Retina display and the fifth-generation full-size iPad. Kuo also expects Apple to retire the non-Retina MacBook Pro line and lower the price of the high-definition display versions of its notebooks.

Herbalife (NYSE:HLF) shares continue to attract attention. Activist investor Carl Icahn is reportedly telling other investors that he has taken a position in the nutritional weight-management company. Herbalife closed 2.5 percent lower on Wednesday, but climbed slightly higher in late afternoon hours.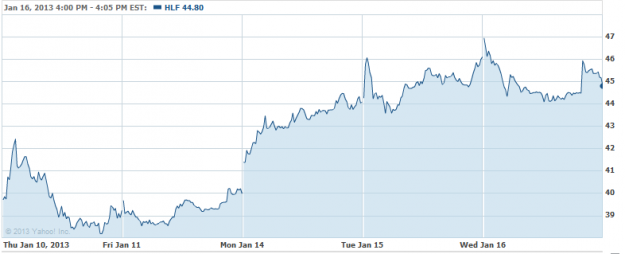 Start 2013 better than ever by saving time and making money with your Limited Time Offer for our highly-acclaimed Stock Picker Newsletter. Click here for our fresh Feature Stock Pick now
Shares of eBay (NASDAQ:EBAY) jumped 1.5 percent after reporting financial results for the fourth quarter. Excluding items, earnings per share came in at 70 cents per share, compared to 60 cents per share a year earlier. Revenue also increased to $3.99 billion, compared to $3.38 billion the prior year. "We had a great finish to an excellent year, with fourth quarter results exceeding our expectations," said John Donahoe, eBay President and CEO. "eBay Marketplaces in particular had a terrific fourth quarter, with growth in the U.S. accelerating three points, outpacing e-commerce." Amazon.com (NASDAQ:AMZN) also traded higher in late trading.

CBS (NYSE:CBS) shares surged more than 8 percent in late afternoon hours. The media company said it plans to turn its domestic billboard-advertising business into a real estate investment trust. Leslie Moonves, chief executive officer, explains, "We believe the moves we are announcing today will unlock the tremendous value of these unique quality assets."

Investor Insight: Are These Gun Stocks Obama-Proof?