Radar Movers: Apple and Facebook Disappoint Wall Street
Shares of Apple (NASDAQ:AAPL) fell more than 3 percent on Tuesday, but are relatively flat in late afternoon trading. The tech giant finished the day at 11-month lows and closed below $500 for the first time since February. Rumors continue to swirl about more iPhone models hitting the market. Peter Misek from Jefferies wrote in a note to investors that two prototypes already being tested by Apple include an iPhone 5S and a low-cost version of the iPhone. While the 5S would be just an incremental upgrade to last October's iPhone 5, a low-cost phone targeted toward emerging markets had also received the green light.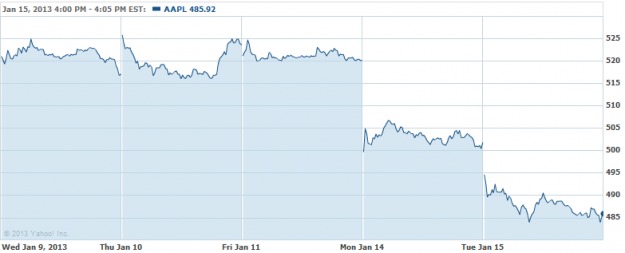 Start 2013 better than ever by saving time and making money with your Limited Time Offer for our highly-acclaimed Stock Picker Newsletter. Click here for our fresh Feature Stock Pick now!
Facebook (NASDAQ:FB) shares dropped 2.74 percent on Tuesday and continue to edge lower in late afternoon hours. At a special press event in California, the world's largest social media company unveiled a new product called Graph Search, which is a social search tool that allows users to customize how they view content through filters. The new feature delivers information with exact answers, as opposed to blue links that claim to hold the answer. Graph Search focuses on people, places, photos and interests. Yelp (NYSE:YELP) plunged 6 percent on the news, as Facebook users will be able to see which places their friends recommend.

Shares of Dell (NASDAQ:DELL) fell 1 percent in late afternoon trading. CNBC reports that a deal for the struggling computer company could be announced in two weeks, which will most likely price the company between $13.50 and $14 a share. An equity investment from Silver Lake and other investors of about $2 billion is also expected.

Cobalt International Energy (NYSE:CIE) shares fell almost 5 percent in late afternoon hours. The company announced a secondary public offering of 40 million shares of common stock. In a press release, the company explains, "The underwriters of this offering have been granted an option, exercisable within 30 days, to purchase up to an additional 6,000,000 shares of common stock from certain of the selling stockholders on the same terms and conditions. Cobalt will not receive any of the proceeds from the sale of the shares of common stock."

Investor Insight: The Facebook Effect Hits These 4 Stocks