Radar Movers: Apple and Facebook Struggle, Comcast Announces Major Acquisition
Shares of Apple (NASDAQ:AAPL) fell 2.5 percent on Tuesday and continue to edge lower in late afternoon trading. Tim Cooks says Apple has looked at purchasing more than one large company in the past, but none passed their test for acquisition. Speaking at the Goldman Sachs technology conference, he was answering a question on whether there was something about Apple's culture that turned it against the concept of large acquisitions. Apple has been criticized for not making its $137 billion in cash holdings work by either buying companies or returning cash to investors.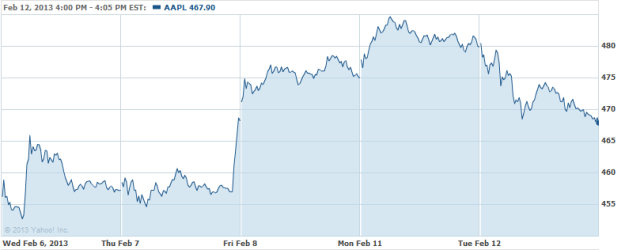 Facebook (NASDAQ:FB) shares are still trying to find support after dropping more than 3 percent. On Tuesday, BTIG downgraded the world's largest social-media company from Neutral to Sell, with a price target of $22 a share. The firm explains, "With revenue and EBTIDA growth set to disappoint, we believe a Sell rating is now warranted, with a target price set at $22, which equates to 13x 2014 EV/EBITDA and 35x FCF (currently trading at 17x 2014 EBITDA and 45x FCF)."

Shares of Buffalo Wild Wings (NASDAQ:BWLD) traded 3 percent lower after announcing fourth quarter financial results. Total revenue jumped 37.8 percent to $303.8 million, compared to the same period a year earlier. Net earnings increased 22.3 percent to $16.7 million, compared to $13.6 million in the fourth quarter of 2011.

Comcast (NASDAQ:CMCSA) shares surged 8 percent in late afternoon trading. The company announced it will purchase General Electric's (NYSE:GE) remaining 49 percent common equity stake in NBCUniversal for around $16.7 billion. "We believe the terms of the transaction are attractive and have planned for this event by taking a number of financial steps to prepare our balance sheet," said Brian L. Roberts, chief executive officer, in a press release. "We believe we are in a strong and unique position to continue to grow and build value in our combined company." Comcast also announced a dividend hike and share repurchase program.

Don't Miss: Does Corporate America Still Have a Bad Reputation?