Radar Movers: Apple and Merck Skip Rally to DOW 14,000
Google (NASDAQ:GOOG) shares closed 2.63 percent higher and continue to edge up in late afternoon trading. The search giant reached a fresh all-time high on Friday. The move comes a week after Google reported better-than-expected earnings for the fourth quarter. In the past 12 months, shares have surged more than 30 percent. On the other hand, social media giant Facebook (NASDAQ:FB) fell 4 percent and continues to lose ground in late afternoon trading.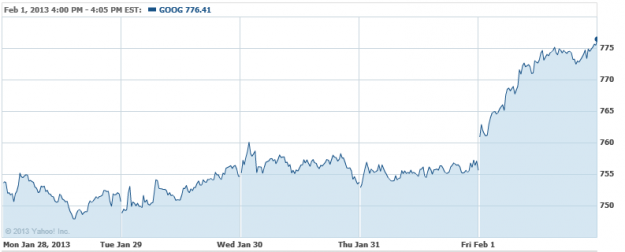 Bank of America (NYSE:BAC) shares surged more than 3 percent on Friday and continue to attract attention. The company is reportedly in the process of launching an ad campaign to rebrand the company. According to the WSJ, the new campaign will roll out in April and includes retraining employees, refurbishing banks, improving customer service and increasing spending on advertising.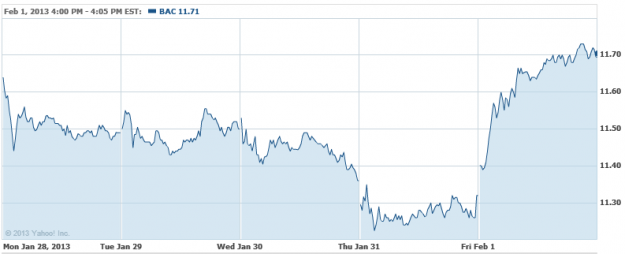 Although the Dow Jones Industrial Average recaptured the 14,000 level for the first time since October 2007, shares of Apple (NASDAQ:AAPL) remain quiet. The tech giant finished Friday slightly in the red, as Topeka Capital analyst Brian White continues to defend the company. "Apple is down right now, but certainly not out," White said. "You take a look at the investor base right now. Growth investors see the growth slowing; they don't want to be involved. They don't think there's a catalyst over the next two, three, four months. Value investors don't see Apple tapping into its cash balance, so they're staying away until they start to see that being distributed."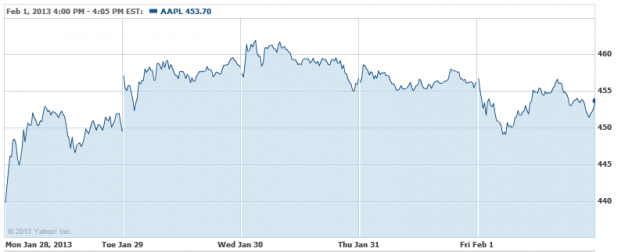 Shares of Merck (NYSE:MRK) edged slightly higher in late afternoon trading after plunging more than 3 percent on Friday. The pharmaceutical manufacturer reported Friday that it generated $1.4 billion, or 46 cents per share, in the fourth quarter. Its results were down significantly from the year-ago quarter, when the company earned $1.51 billion, or 49 cents per share. Merck's fourth quarter was marred by patent expirations. The company saw sales slide 5 percent in the three-month period to $11.74 billion, as revenue from its asthma drug Singulair, which lost patent protection last year, fell 67 percent. But Merck's future looks more bleak than that its rivals.

Investor Insight: Chart of the Day: AAPL vs AMZN