Radar Movers: Apple and Micron Technology Climb Higher, Gap Plunges
Micron Technology (NASDAQ:MU) shares jumped 1.3 percent in late afternoon trading. Micron Technology reported quarterly earnings of 20 cents per share on revenue of $2.84 billion. It was a miss on the bottom line, but a beat on the top line. "Micron is executing well on multiple fronts with the successful integration of Elpida and ongoing steady development of advanced memory solutions, including our hybrid memory cube that began sampling with key customers this quarter and our second generation family of PCIe enterprise SSD's which recently qualified at a major OEM," said Micron Technology CEO Mark Durcan. "Our product portfolio and systems solutions position us well to compete in the current favorable market environment."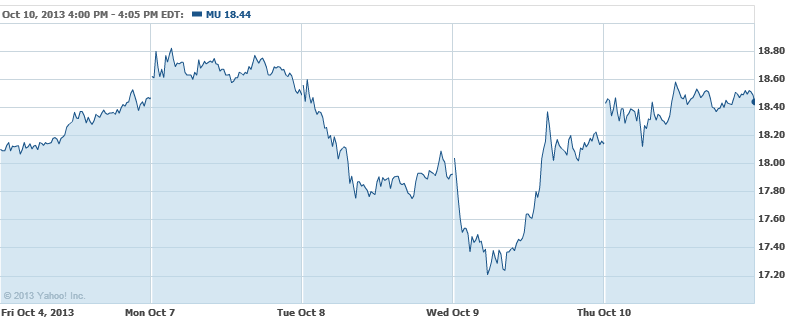 Shares of Gap (NYSE:GPS) plunged more than 5 percent in late afternoon hours. Gap reported that same-store sales declined 3 percent for September, compared to a 3 percent rise a year earlier. "While September proved to be somewhat challenging, we remain steadfast in our commitment to deliver on our full-year goals," said Glenn Murphy, chairman and chief executive officer of Gap. Net sales for Gap during the five-week period ending October 5, 2013 were $1.46 billion.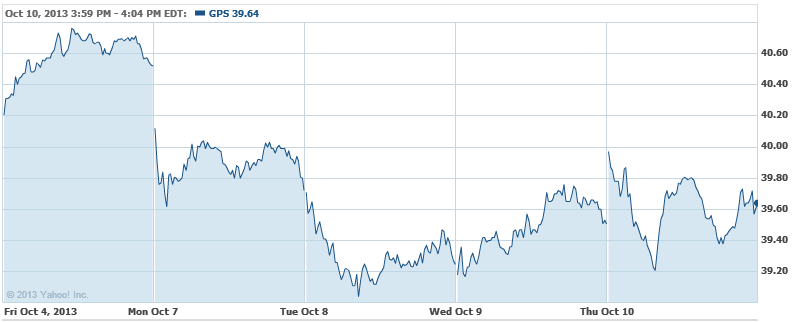 Safeway (NYSE:SWY) shares surged nearly 6 percent in late afternoon trading. Safeway announced quarterly earnings of 10 cents per share. That was below estimates calling for 16 cents per share, but revenue of $8.62 billion was better than expected. "The decision to sell Canada Safeway and to exit the Chicago market is consistent with Safeway's priority of maximizing shareholder value," said Robert Edwards, president and chief executive officer. "These actions will allow us to focus on improving and strengthening our core grocery business. We are continuing to review all of our businesses to optimize our allocation of resources, improve sales and grow operating profits."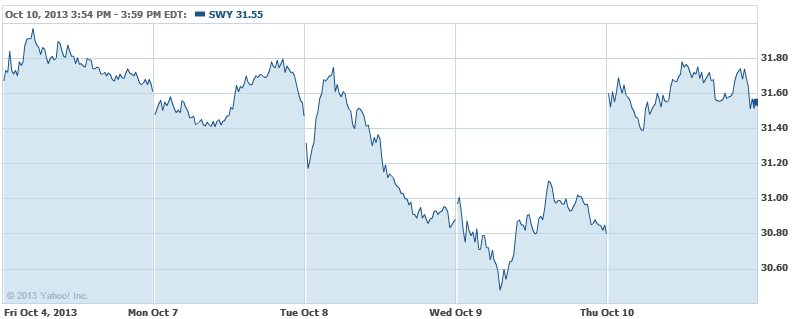 Shares of Apple (NASDAQ:AAPL) edged slightly higher on Thursday, but underperformed the overall market. Apple's Mac shipments in the U.S. dropped in the third quarter of 2013, according to the latest PC market data from IDC. Apple's year-over-year Mac shipments decreased by 11.2 percent amid an overall PC shipment decline of 0.2 percent in the U.S. market. Apple was the only top-five vendor to see a year-over-year decline in the third quarter. However, data from Gartner said Apple only experienced a decline of 2.3 percent.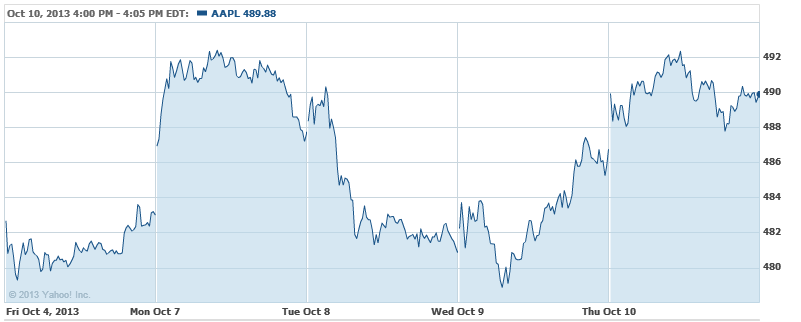 Don't Miss: Top 5 Stocks Pushing the Dow Back Above 15K
Follow Eric on Twitter @Mr_Eric_WSCS