Radar Movers: Apple and Microsoft Climb Higher, Lions Gate Impresses the Street
Shares of Apple (NASDAQ:AAPL) gained 1 percent on Monday and continue to attract attention in late afternoon trading. The tech giant is said to be experimenting with a wristwatch-like smart device made of curved glass in its research and development labs and has even discussed it with its main manufacturing partner, Hon Hai Precision Industry. According to the New York Times, the device would operate on Apple's iOS platform.

Microsoft (NASDAQ:MSFT) shares also gained 1 percent, despite being one of three companies to have received subpoenas to be present at a March 22 public hearing of the Australian government and address allegations of unfair pricing practices. Australia's House Committee on Infrastructure and Communications summoned Microsoft, along with Apple and Adobe (NASDAQ:ADBE) to explain why their products sell at a much higher premium in  Australia when compared to international prices.

Shares of Lions Gate Entertainment (NYSE:LGF) increased 0.70 in late afternoon trading. The company reported net income of $37.8 million (27 cents per share) for the third quarter, compared to a loss of $1.4 million a year earlier. Furthermore, sales more than doubled to $743.6 million. "The quarter reflected not only the impact of our young adult franchises but strong contributions from the rest of our theatrical releases and our home entertainment and international operations," said Lions Gate CEO Jon Feltheimer. "Our revenue growth compared to the prior year quarter was matched by continued strong EBITDA and free cash flow that will enable us to continue our focus on optimizing our capital structure and deleveraging our balance sheet."

Zynga (NASDAQ:ZNGA) shares surged 7 percent on Monday and are holding gains in late afternoon hours. Deadline reports that Brett Ratner, the director of Hercules, is teaming up with Six Eleven Media to produce a television serious based on the FarmVille hit. "FarmVille is one of the most exciting brands out there today and its cross-platform opportunities are endless," said Ratner in a statement. No television network is currently attached to the proposed show, but Zynga could probably figure out its own distribution through existing video platforms and its heavy hand in social networking. "I am thrilled to be expanding the brand with existing fans and also engaging a whole new audience," continued Ratner.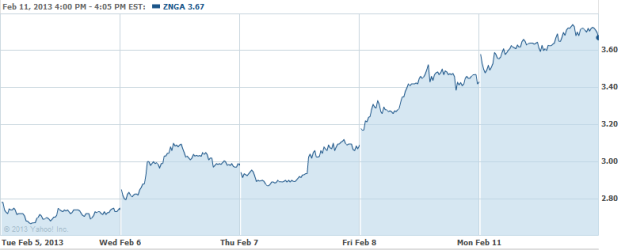 Don't Miss: What Do Top Executives Think About the Economy?