Radar Movers: Apple and Microsoft Sink Lower, Starbucks Jumps 3%
Shares of Apple (NASDAQ:AAPL) plunged more than 12 percent on Thursday and continue to edge lower in late afternoon hours. The company recently released financial results that did not satisfy the market. Furthermore, gross margin came in at 38.6 percent, compared to 44.7 percent in the same quarter a year earlier. Apple finished the quarter with a total cash position of $137.1 billion.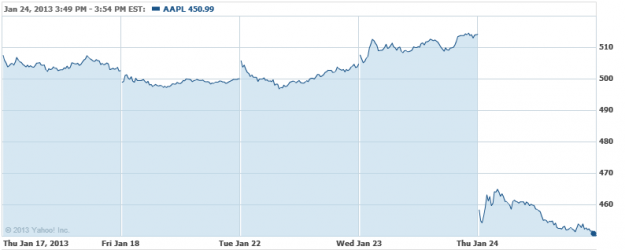 Microsoft (NASDAQ:MSFT) shares declined 2 percent in late afternoon trading. The company posted quarterly earnings of $6.4 billion (76 cents per share), down from $6.6 billion (78 cents per share) a year earlier. Revenue increased 3 percent to $21.5 billion. "We see strong momentum in our enterprise business. With the launch of SQL Server 2012 and Windows Server 2012, we continue to see healthy growth in our data platform and infrastructure businesses and win share from our competitors," said Kevin Turner, chief operating officer at Microsoft.

Shares of Starbucks (NASDAQ:SBUX) jumped nearly 3 percent in late afternoon hours. The coffee giant announced earnings of 57 cents per share for the fiscal first quarter 2013, compared to 50 cents per share a year earlier. "Starbucks strong performance in Q1 demonstrates the strength, and unique resilience, of our increasingly global business, and the power and growing relevance of the Starbucks brand to consumers and communities all around the world," said Howard Schultz, chairman, president and chief executive officer. Green Mountain Coffee Roasters (NASDAQ:GMCR) shares also climbed higher.

AT&T (NYSE:T) shares edged slightly higher in late afternoon trading. The company reported a loss of 68 cents per share, compared to a loss of $1.12 per share a year earlier. "We had an excellent 2012," said Randall Stepheson, AT&T chairman and chief executive officer. "We grew revenues, increased adjusted earnings per share by 8.5 percent and generated cash from operations at record levels. We used this cash to invest aggressively in the future of our business and returned $23 billion to share-owners through dividends and share repurchases."

Investor Insight: Apple Chart of the Day: Growth Scaring Mr. Market Away?