Radar Movers: Apple and Yum! Sink Lower, BlackBerry Surges on Nasdaq
Despite a favorable court ruling, Apple (NASDAQ:AAPL) shares dipped 2.5 percent on Monday and continue to attract attention in late afternoon trading. The iGadget maker and other Internet-based sellers of music and programs can ask for personal information, such as addresses and phone numbers, from users, according to a ruling by the California Supreme Court. The court, in a 4 to 3 ruling on Monday, said these companies were not covered by a 22-year-old consumer law that stops businesses from collecting such information.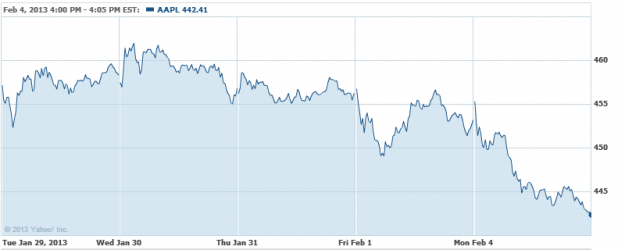 BlackBerry (NASDAQ:BBRY), formally known as Research in Motion, had a strong debut on the Nasdaq with its new name. Shares of BlackBerry surged 15 percent and continue to climb higher in late afternoon hours. During the unveiling of the BlackBerry 10 operating system and its two new smartphones last week, the company unexpectedly announced the new name change. In comparison, Nokia (NYSE:NOK) sank nearly 5 percent.

Shares of The Hartford Financial Services Group (NYSE:HIG) increased 1.2 percent after releasing fourth quarter financial results. The insurer reported a net loss of $46 million (13 cents per share), compared to a net gain of $118 million (23 cents per share) a year earlier. However, Hartford announced a pleasing 2013 outlook, as core earnings are expected to come in at $1.375 billion to $1.475 billion.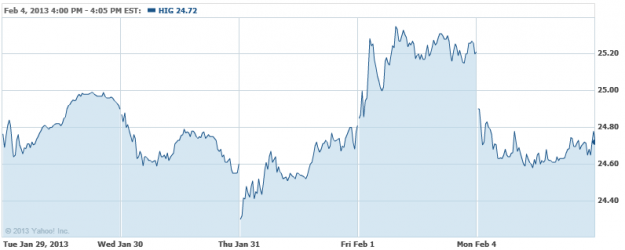 Yum! Brands (NYSE:YUM) shares dropped 4.5 percent after announcing fourth quarter financial results. The parent company of KFC, Pizza Hut and Taco Bell beat expectations on adjusted earnings and revenue, but China comparable-store sales declined 6 percent. Going forward, Yum! expects a mid single-digit decline in earnings per share for 2013 from a year earlier.

Investor Insight: Is Main Street Smiling With Ben Bernanke?