Radar Movers: Apple Dips 1%, BlackBerry Fights Back
Shares of JPMorgan Chase (NYSE:JPM) edged slightly higher in late afternoon hours, after declining 0.60 percent on Friday. The bank reported a 33 percent increase in first-quarter profit. However, revenue in the quarter fell to $25.1 billion and earnings were helped by loan-loss reserves. There was also weakness in the bank's mortgage business. Wells Fargo (NYSE:WFC) shares also declined due to disappointing quarterly results.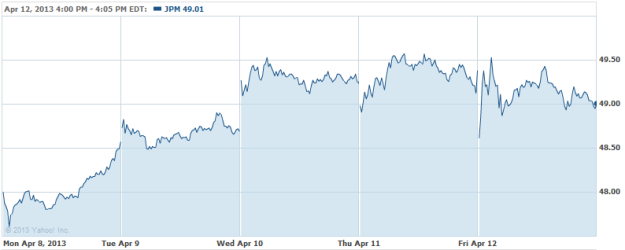 Apple (NASDAQ:AAPL) shares fell 1 percent on Friday and continue to edge lower in late afternoon trading. Heading into second-quarter results, RBC Capital analyst Amit Daryanani has lowered his price target on Apple shares from $600 to $550 reports Benzinga. Although Daryanani has reiterated his Outperform rating on Apple stock, he believes possible "weaker demand" in the March quarter justifies the price target adjustment.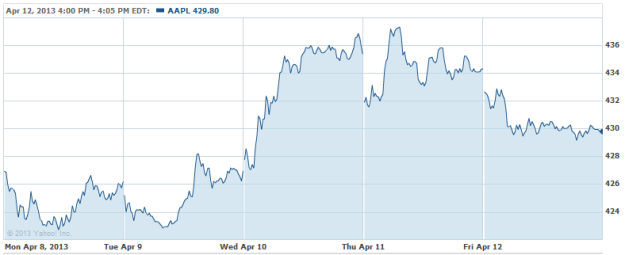 Shares of BlackBerry (NASDAQ:BBRY) stabilized after plunging 8 percent prior day. After research firm Detwiler Fenton said BlackBerry's devices were being returned faster than sold, the company has fired back, calling the claims false and seeking regulatory review. According to BlackBerry, Z10 returns have not exceeded the company's forecasts and are following the industry norms. Thorsten Heins, the company's chief executive officer, said that "to suggest otherwise is either a gross misreading of the data or a willful manipulation."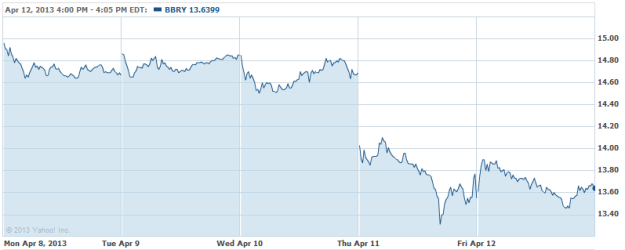 J.C. Penney (NYSE:JCP) fell 1.6 percent on Friday and continues to edge lower in late afternoon hours. The struggling retailer has reportedly hired Blackstone (NYSE:BX) in an advisory role to help manage its fast-disappearing hoard of cash, and to raise about $1 billion to meet store renovation expenses, inventory build-up ahead of the holiday and back-to-school seasons, and promotion and other stores operations costs. Sales have been falling relentlessly, resulting in lower cash flow from operations, and though the retail chain has an untapped credit line worth $1.85 billion, it might not draw on the same for fear of sending the wrong signals to investors.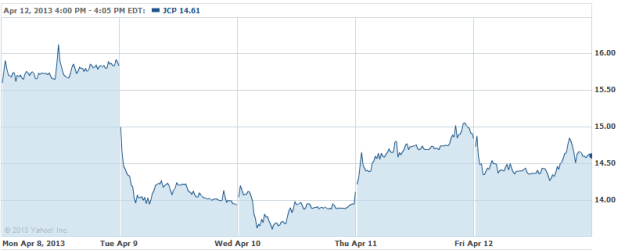 Don't Miss: Is Housing Bubble 2.0 Already Here?