Radar Movers: Apple Disappoints Wall Street, Tesla Drops 4%
Shares of Herbalife (NYSE:HLF) gained 2.3 percent on Monday and continued to edge higher in late afternoon hours. Herbalife reported quarterly earnings of $1.41 per share, up from $1.04 a year earlier and easily beating Wall Street's estimate of $1.14 per share. Herbalife also reported revenue of $1.21 billion, inline with estimates. "We continue to execute on our core strategies and deliver record financial performance, marking our sixteenth consecutive quarter of double-digit top-line growth," said Michael O. Johnson, Herbalife's chairman and chief executive officer. "Our initial 2014 guidance demonstrates our belief that the macro trend of global obesity will increase worldwide consumer demand for our products."

Apple (NASDAQ:AAPL) shares fell more than 2 percent in late afternoon trading. Apple reported better-than-expected quarterly earnings and revenue, but disappointed with its gross margin guidance for the current quarter, which is 36.5 percent to 37.5 percent. However, Apple still sold 33.8 million iPhones, a record for the September record. "We're pleased to report a strong finish to an amazing year with record fourth quarter revenue, including sales of almost 34 million iPhones," said Tim Cook, Apple's CEO. Apple generated $9.9 billion in cash flow from operations and returned $7.8 billion to shareholders through dividends and share repurchases.

Shares of BlackBerry (NASDAQ:BBRY) edged lower on Monday. One potential bidder is already out of the race of purchasing BlackBerry. German business software manufacturer SAP (NYSE:SAP) has decided that purchasing BlackBerry "doesn't fit" with its strategy, CFO Werner Brandt told a German magazine, Reuters reports. The news comes as a $4.7 billion buyout offer from Fairfax Financial Holdings is looking less certain as the days pass. Other potential deals are a purchase of the company as a whole or in parts by co-founders Mike Lazaridis and Doug Fregin, as well as offers from former Apple CEO John Sculley, Cisco Systems (NASDAQ:CSCO), Google (NASDAQ:GOOG), Cerberus Capital Management, and Lenovo (LNVGY.PK).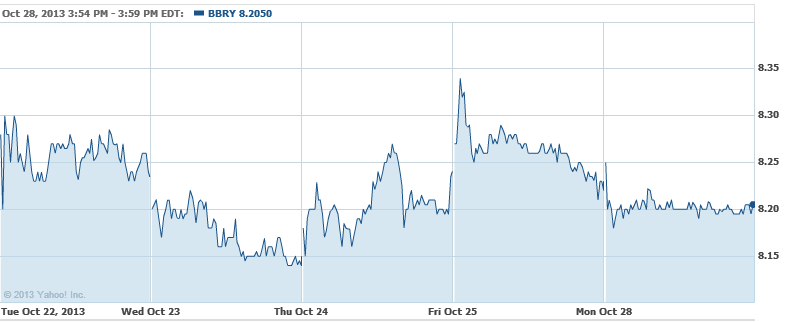 Tesla Motors (NASDAQ:TSLA) shares dropped 4 percent on Monday and continued to decline in late afternoon hours. Tesla CEO Elon Musk sees sales of its Model S hitting the 10,000-unit sales mark in Germany by 2015, a current stronghold for a large portion of Tesla's primary competition. By the end of next year, Musk says that Tesla's charging network will blanket the country. Separately, another Model S fire has been reported, this time in Mexico; like the first, it occurred after a fairly severe accident, though the driver was able to make it away from the car safely.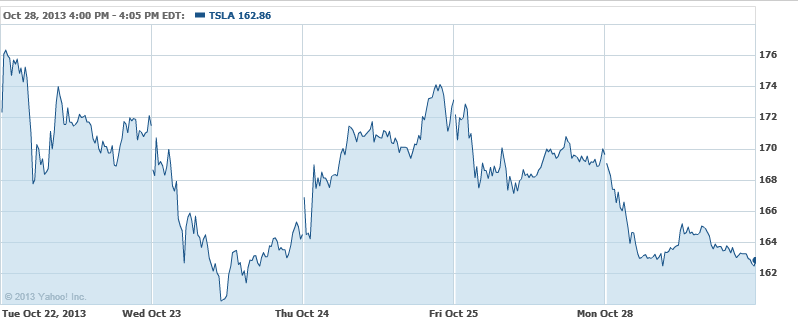 Don't Miss: Is Debt Destroying Your Retirement Savings?
Follow Eric on Twitter @Mr_Eric_WSCS