Radar Movers: Apple Dodges Pullback, BlackBerry and Dell Light-Up Trading Screens
Shares of BlackBerry (NASDAQ:BBRY) dropped 4.5 percent on Monday and continue to edge lower in late afternoon hours. Goldman Sachs downgraded the company to Neutral from Buy, citing a disappointing launch of the Z10. Meanwhile, analysts at Citigroup said the "new product launch was not what people were expecting," and checks revealed "shocking low support by AT&T (NYSE:T)."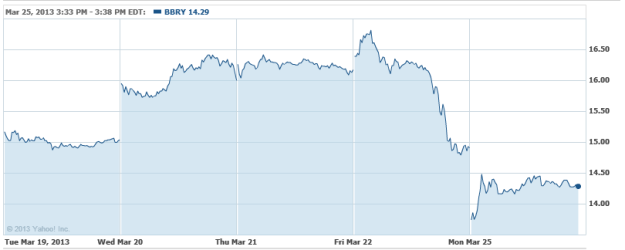 Dell (NASDAQ:DELL) shares dipped in late afternoon trading, after finishing more than 2 percent higher on Monday. Buyout speculation continues to drive the stock price. "We believe a higher buyout bid is in the cards and we continue to believe that an $18.00 buyout price for Dell makes sense; however, it is unlikely that this price level will occur in the first round of bidding," wrote Topeka Capital Markets analyst Brian White in a note circulated Monday. The firm's price target was based on a calculation of 7.7 times its 2014 pro forma earnings per share estimate plus net cash per share.

Despite a market pullback, Apple (NASDAQ:AAPL) shares traded slightly higher on Monday and continue to attract attention in late afternoon hours. UBS added the tech giant to its Most Preferred List. The bank believes there are several catalysts, including "an increase in the buyback/dividend, a new low-end iPhone, and China Mobile (NYSE:CHL) reselling an Apple phone in the fourth calendar quarter, helping support earnings growth in F2014."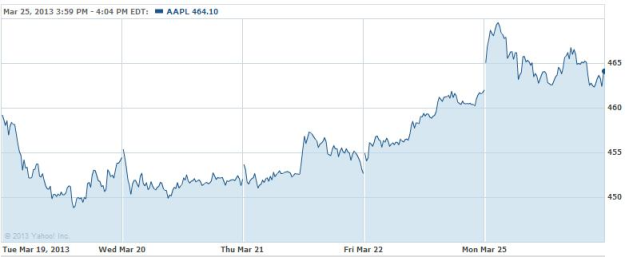 Shares of Ford Motor (NYSE:F) edged slightly higher in late afternoon hours, shaking off an unplanned ad campaign. Ford India recently issued a series of ads that have drawn enormous criticisms in several different countries, and Ford is apologizing as a result. The ads depict Silvio Berlusconi — infamously known for his love of younger women and the sexually charged soirées at his luxury lakeside villas — in a new Ford model, with three bound and gagged women packed in the truck. It should be noted that the ads were illustrations, not actual photos, although the point of the ad makes the chosen medium rather irrelevant.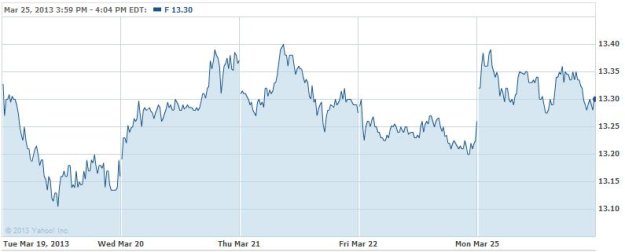 Don't Miss: The Fed: We Have to Keep Printing Because of Congress