Radar Movers: Apple Finishes at $500, GE and RIM Climb Higher
Shares of Apple (NASDAQ:AAPL) closed the day slightly in the red at $500. Despite the recent struggles, Wells Fargo analyst Maynard Um believes the stock will regain momentum this summer once the company launches a new iPhone. According to Um, Apple will continue the trend of having a very similar next model — like the iPhone 4 and iPhone 4S — with the use of shared components in the two versions boosting gross margins. With the launch of the "iPhone 5S," Apple's current "black ice" will "thaw through summer," Um wrote in a research note, according to AppleInsider.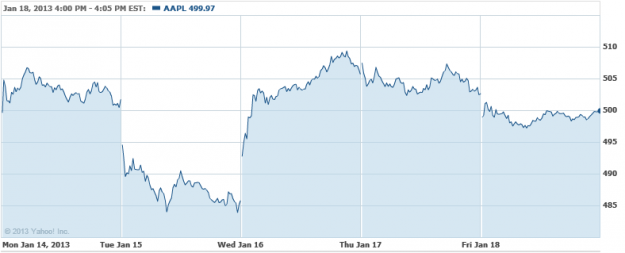 General Electric (NYSE:GE) shares closed more than 3 percent higher and continue to rise in late afternoon trading. The world's largest conglomerate reported Friday that earnings rose to $4.01 billion (38 cents per share) for the three months ended in December, an increase from $3.73 billion (35 cents per share) in the year-ago quarter. Excluding one-time items, the company made a profit of 44 cents per share, a penny more than analysts polled by Thomson Reuters had predicted.

Start 2013 better than ever by saving time and making money with your Limited Time Offer for our highly-acclaimed Stock Picker Newsletter. Click here for our fresh Feature Stock Pick now!
AT&T (NYSE:T) shares dipped in late afternoon hours. The company recently revealed that it will take a $10 billion charge in the next quarter because of pension obligations. While the wireless carrier said it expects that the $10 billion charge will be partially offset by an asset gain of $1.9 billion, AT&T estimated a net operating income loss of $175 million for the quarter in its wireless sector, resulting from superstorm Sandy-related damages and higher-than-expected smartphone costs. Verizon Communications (NYSE:VZ) shares also edged slightly lower.

Shares of Research in Motion (NASDAQ:RIMM) continue to attract attention in late afternoon hours, after closing the day 6.2 percent higher. Jefferies analyst Peter Misek upgraded the company to a Buy and increased his price target from $13 to $19.50. He cites stronger-than-expected carrier and developer support for the new BB10 phones.

Investor Insight: 113th Congress Is No Stranger to Wealth