Radar Movers: Apple Finishes Lower, American Express and Intel Disappoint
Despite the S&P 500 reaching its highest level in five years, Apple (NASDAQ:AAPL) shares closed the day in the red and continue to edge lower in late afternoon trading. Investors are likely waiting for the upcoming earnings report to stabilize shares. Goldman believes there is healthy upside. "Given the healthy supply ramp for the iPhone 5 and what we believe was remarkably strong demand, our [average selling price] and unit assumptions could prove too conservative," analyst Bill Shope wrote in a note to investors, according to Barron's. Shope, who reiterated a Buy rating and a $760 price target on the stock, added that he was modeling $53.58 billion in revenue and $12.58 per share in net profit on iPhone unit sales of 48.4 million.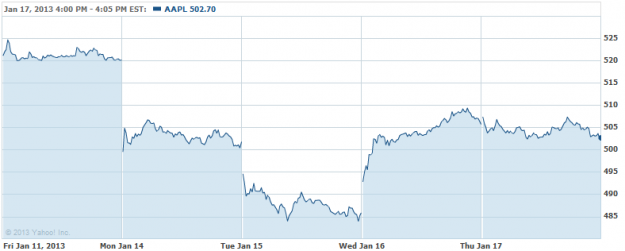 American Express (NYSE:AXP) shares dropped 1 percent after reporting financial results for the fourth quarter. Net income came in at $637 million (56 cents per share), compared to $1.2 billion ($1.01 per share) a year earlier. Excluding items, earnings per share was $1.09, slightly above estimates. The company logged almost $600 million in after-tax charges, with 5,400 job cuts being the primary driver. Mastercard (NYSE:MA) and Visa (NYSE:V) edged slightly higher in late trading.

Start 2013 better than ever by saving time and making money with your Limited Time Offer for our highly-acclaimed Stock Picker Newsletter. Click here for our fresh Feature Stock Pick now!
Shares of Intel (NASDAQ:INTC) plunged more than 5 percent in late afternoon hours. The company announced it earned $2.6 billion (48 cents per share) for the fourth quarter, compared to $3.36 billion a year earlier. Revenue also decreased to $13.5 billion. "The fourth quarter played out largely as expected as we continued to execute through a challenging environment," said Paul Otellini, Intel president and CEO. "We made tremendous progress across the business in 2012 as we entered the market for smartphones and tablets, worked with our partners to reinvent the PC, and drove continued innovation and growth in the data center."

Bank of America (NYSE:BAC) shares closed 4.2 percent lower on Thursday and continue to struggle in late afternoon trading. The bank said revenue for the fourth quarter dropped 25 percent to $18.7 billion. Net profit of $732 million beat estimates, but the bottom line was helped by loan-loss reserves.

Investor Insight: 113th Congress Is No Stranger to Wealth