Radar Movers: Apple Infringed on Samsung's Patents, GM and Verizon Dodge Market Decline
Despite an overall down day in the markets, shares of General Motors (NYSE:GM) jumped 1.6 percent and continued to edge higher in late afternoon hours. After being kicked off the S&P 500 index and receiving billions of dollars from taxpayers, the automaker will rejoin the index, replacing Heinz. Companies listed on the S&P are heralded as industry leaders, according to the index's website. Shares of Ford Motor (NYSE:F) edged slightly lower.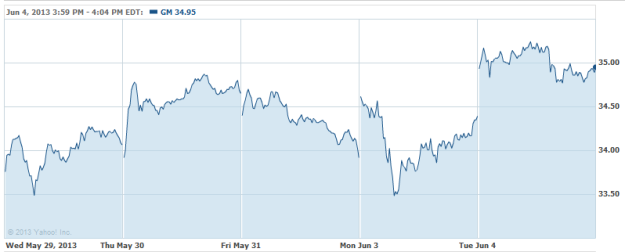 Shares of Verizon Communications (NYSE:VZ) managed to avoid the market sell off by closing 0.40 percent higher on Tuesday. The National Football League has extended its deal with it wireless carrier to make all games available to Verizon customers on their mobile phones. The agreement is valued at $1 billion over the four years, and represents a 39 percent increase of the previous four-year deal, The Wall Street Journal reports. Eventually, games will be available to all mobile phone customers.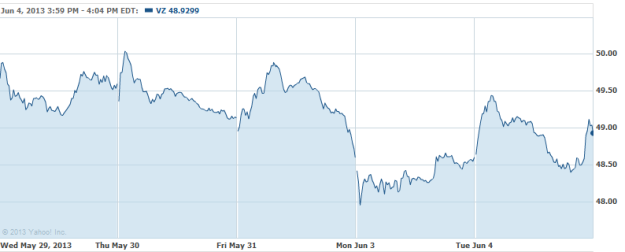 Netflix (NASDAQ:NFLX) shares jumped 1.5 percent on Tuesday. According to NPD Groups data, Netflix held a 90 percent share of video-streaming subscriptions in the first quarter of 2013, leaving only 10 percent of the market for Hulu Plus and Amazon Prime — the subscription streaming services of Hulu and Amazon, respectively — and any smaller services out there. However, Netflix's share is down 4 percent from the same period last year.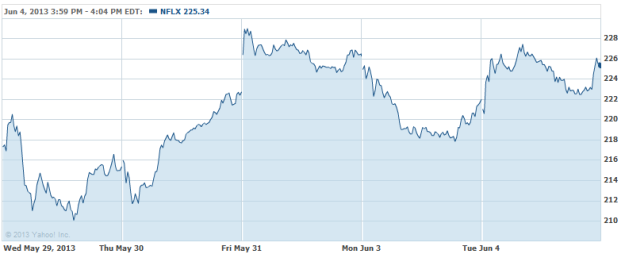 Shares of Apple (NASDAQ:AAPL) edged slightly lower in late afternoon hours. The U.S. International Trade Commission found that Apple infringed on Samsung's patents. As a result, Apple now faces a ban on the iPhone 4, iPhone 3GS, iPhone 3, iPad 3G, and iPad 2 3G made for AT&T (NYSE:T). President Obama has 60 days to veto the decision. Apple said in a statement that it was "disappointed" with the ruling, but it will not affect the availability of products in the United States.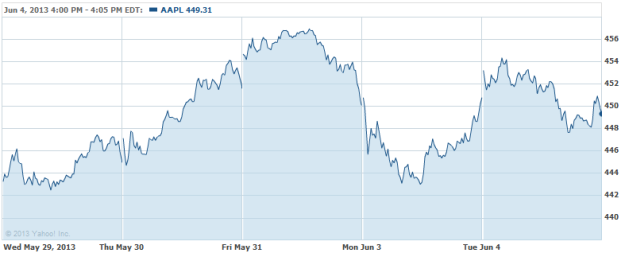 Don't Miss: Is the Worst finally Over for Gold?
Follow Eric on Twitter (@Mr_Eric_WSCS)