Radar Movers: Apple Jumps on Possible iPhone 5S Launch Date, Herbalife Edges Lower
Shares of Herbalife (NYSE:HLF) dipped in late afternoon trading. The company reported quarterly net income of $118.9 million ($1.10 per share), compared to $108.2 million (88 cents per share) a year earlier. Excluding items, Herbalife earned $1.27 per share, well above estimates. However, it spent $8 million defending itself against Bill Ackman, who calls the company a "pyramid scheme."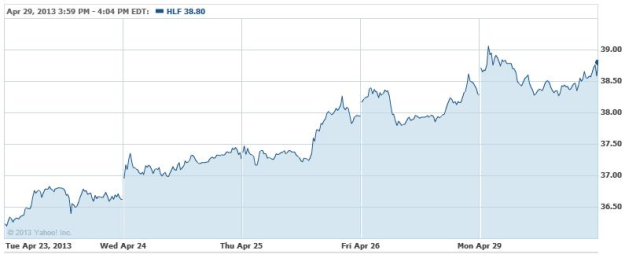 Buffalo Wild Wings (NASDAQ:BWLD) gained 3.3 percent in late afternoon hours. The company reported weaker-than-expected earnings, but revenue surged 21.2 percent to $304.4 million. Sally Smith, chief executive officer, explains, "We're pleased with our strong revenue growth in the first quarter of over 21 percent. For the quarter, same-store sales in company-owned locations increased 1.4 percent, outpacing the negative same-stores sales in the casual dining category."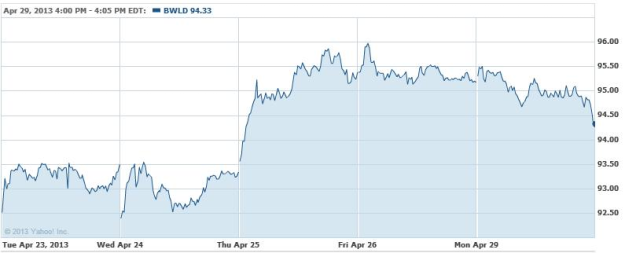 Shares of BlackBerry (NASDAQ:BBRY) popped 3.9 percent on Monday. Analysts at Jefferies said that channel checks in the United Kingdom have indicated that the launch of the Q10 smartphone are going well, with Carphone Warehouses stock selling out quickly and initial sell-in at 50-plus devices per store. Furthermore, Z10 sales in the U.K. and North America are remaining steady, with no return or inventory issues to report. It keeps a Buy rating and a $22 price target.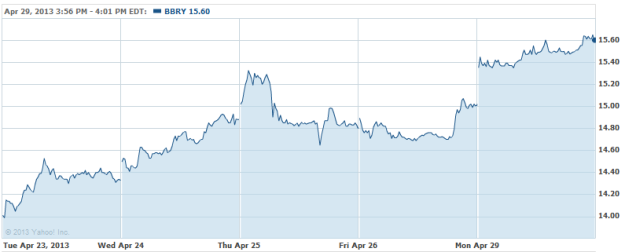 Apple (NASDAQ:AAPL) shares jumped more than 3 percent on Monday and continue to edge higher in late afternoon hours. Information received by AppleInsider indicates that the iPhone 5S may have a pre-sale announcement date of June 20, with actual sales starting in July. The new smartphone is also expected to have a fingerprint reader, a 13-megapixel camera, and an updated version of Apple's mobile operating system, iOS 7. Shares of Google (NASDAQ:GOOG) also gained 2.2 percent on Monday.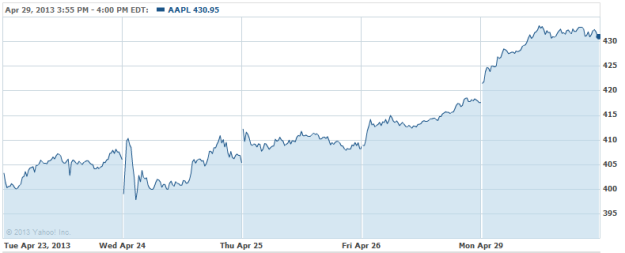 Don't Miss: Should Central Banks Buy Stocks?