Radar Movers: Apple Prepares to Launch New iPads, Yum! Brands Plunges 8%
Alcoa (NYSE:AA) shares increased 1.4 percent in late afternoon trading. The aluminum giant reported quarterly earnings of 11 cents per share on revenue of $5.77 billion. Wall Street was only expecting 5 cents per share on revenue of $5.63 billion from Alcoa. "Our performance this quarter shows our repositioning of the Company is on the right path," said Klaus Kleinfeld, Alcoa CEO. "We continued to build our value-add businesses, capturing demand for innovative material solutions across multiple markets."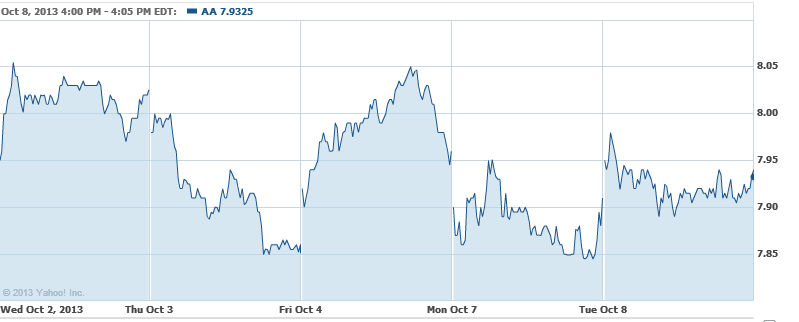 Shares of Apple (NASDAQ:AAPL) edged slightly higher in late afternoon hours. According to AllThingsD, Apple will hold its next event on October 22, and it will showcase new iPads. Furthermore, the new Mac Pro and OS X Mavericks "will likely get some stage time as well." Apple's next generation iPad is expected to run on the new 64-bit A7 chip. AllThingsD also notes, "It's not clear whether Apple's new iPads will feature the Touch ID fingerprint sensor that recently debuted on the iPhone 5S, though that has been rumored."

Facebook (NASDAQ:FB) shares plunged more than 6 percent on Tuesday and continued to edge lower in late afternoon trading. Facebook was slapped with a downgrade from financial services firm Raymond James. The firm, citing Facebook's now enormous valuation, pulled Facebook's stock down from Strong Buy to Buy but raised its price target from $39 to $56 per share.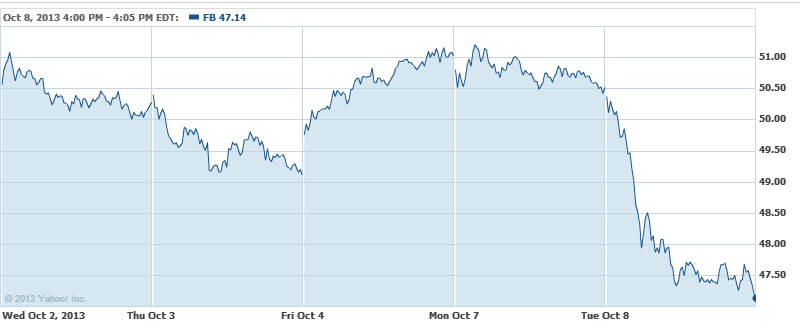 Shares of Yum! Brands (NYSE:YUM) plunged more than 8 percent in late afternoon hours. Yum! Brands, the parent company of KFC and Pizza Hut, reported quarterly earnings of 85 cents per share, well below expectations of 93 cents per share. Yum! Brands' revenue of $3.47 billion also missed estimates calling for $3.53 billion. Same-store sales dropped 11 percent in China. "David C. Novak, Yum! Brands CEO, said, "Despite the disappointing third-quarter performance, I remain as confident as ever in our ability to deliver strong, sustainable growth in the years to come. Given a slower-than-expected sales recovery at KFC China and a higher-than-expected tax rate, we are now estimating a high-single to low-double-digit percentage decline in full-year EPS versus prior year, excluding Special Items."

Don't Miss: Are Nations Still Hunkering Down with Cash?
Follow Eric on Twitter @Mr_Eric_WSCS