Radar Movers: Apple Sees iPhone 5S Effect, J&J and Netflix Climb Higher
Shares of Johnson & Johnson (NYSE:JNJ) continue to attract attention in late afternoon hours. Despite prescribing a recall for 1.9 million glucose meters, shares jumped more than 1 percent on Tuesday to make a fresh all-time high. Analysts at UBS increased their price target on shares to $87 from $81, and currently rate the stock as a Buy.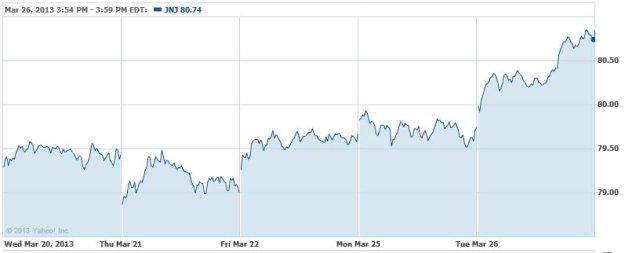 Apple (NASDAQ:AAPL) shares skipped the broad rally on Tuesday, but edged slightly higher in late afternoon trading. Oppenheimer analyst Ittai Kidron lowered his price target on shares from $600 to $550. As the rumored release date for the company's next version of its flagship smartphone — named the iPhone 5S if analyst speculation is correct — nears, Kidron argued that customers will increasingly hold off purchasing new phones in anticipation of the next refresh. This change to purchasing patterns will likely hurt the company over the short term, as the lower sales figures will hurt its financials. "Like spring training, the national pastime of predicting potential iPhone/iPad release dates is picking up steam and increasingly mid-year focused," wrote Kidron in a research note seen by StreetInsider.

Netflix (NASDAQ:NFLX) shares surged 5.4 percent on Tuesday. Analyst Andy Hargreaves of Pacific Crest Securities increased his price target from $160 to $225 per share, and maintained his Outperform rating. He believes Netflix can use its information advantage and content spending to drive subscriber growth more than expected. Hargreaves believes Netflix will now hit 46 million domestic streaming subscribers by 2015, up from his prior estimate of 43 million.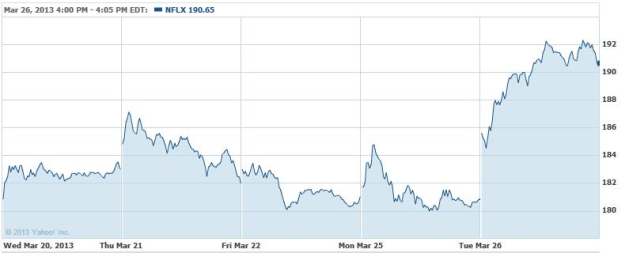 Shares of BlackBerry (NASDAQ:BBRY) rebounded 1.6 percent on Tuesday and continue to edge higher in late afternoon trading. According to Bernstein, BlackBerry will likely surprise in regards to Q4 gross margins driven by BlackBerry 10 units and high margin fees. The firm believes that the company's Q1 guidance will be another catalysts and notes that the company is in a very strong position to begin to ship its new devices. The firm gives the shares an Outperform rating and a $22 price target. Nokia (NYSE:NOK) also bounced 1.2 percent on Tuesday.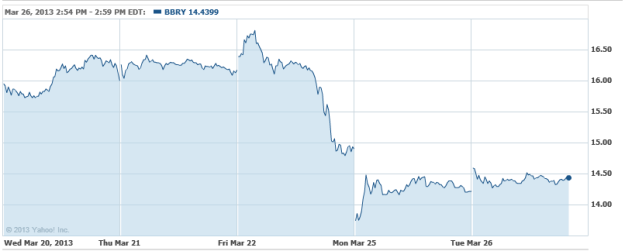 Don't Miss: What Happens in an Internet Minute?