Radar Movers: Apple Tanks 10%, Netflix Surges 32%
Netflix (NASDAQ:NFLX) shares surged 32 percent in late afternoon trading. The media company reported a fourth quarter profit of $8 million (13 cents per share), down from $35 million (64 cents per share) a year earlier. However, Wall Street was expecting a loss of 13 cents per share. Netflix added nearly 10 million global streaming members last year and grew to over 33 million global streaming members.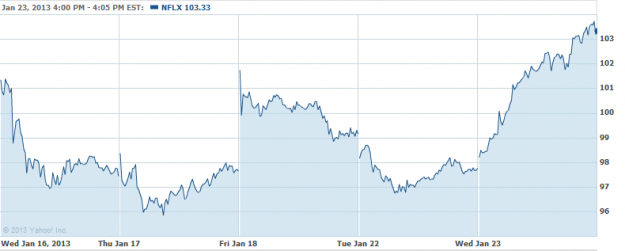 Shares of Google (NASDAQ:GOOG) edged slightly lower in late afternoon hours. However, the search giant closed 5.5 percent higher after recently reporting impressive quarterly results. Excluding items, Google earned $10.65 per share, compared to $9.50 per share a year earlier. Meanwhile, revenue including Motorola Home jumped 50 percent to $12.16 billion, compared to $8.13 billion a year earlier. Analysts expected earnings of $10.42 per share on $12.34 billion in revenue. Yahoo! (NASDAQ:YHOO) shares also fell 1 percent  in late trading.

Shares of Apple (NASDAQ:AAPL) tanked more than 10 percent after reporting financial results for the fiscal 2013 first quarter. The tech giant posted a net profit of $13.1 billion ($13.81 per diluted share), compared to $13.1 billion ($13.87 per diluted share) a year earlier. Meanwhile, revenue increased 17.7 percent to $54.5 billion, from $46.3 billion in the 14-week year-ago quarter. Analysts had expected Apple to earn $13.47 per share on $54.9 billion in revenue.

Despite reporting better-than-expected earnings, Amgen (NASDAQ:AMGN) shares edged lower in later afternoon hours. Excluding items, the company earned $1.40 per share, with revenue of $4.42 billion. In comparison, analysts on Wall Street expected earnings of $1.38 per share with $4.37 billion in revenue.

Investor Insight: AAPL Earnings: Cash Hoard Swells to New Record