Radar Movers: Apple Worst Performer in S&P 500, Outerwall Plunges 20%
Shares of Pandora Media (NYSE:P) dropped more than 3 percent in late afternoon hours. The Internet radio company is conducting a secondary offering of 14 million shares. Pandora intends to use the funds for general corporate purposes, including working capital and capital expenditures. It may also use the proceeds for acquisitions.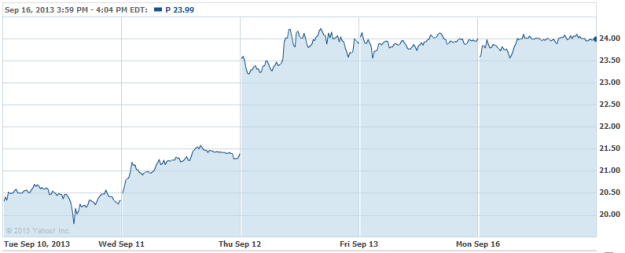 Outerwall (NASDAQ:OUTR) shares plunged 20 percent in late afternoon trading. The company behind Redbox kiosks slashed its outlook for the third quarter and the rest of the year. Outerwall expects consolidated revenue between $2.274 and $2.339 billion for 2013, down from prior estimates of $2.372 to $2.475 billion. "Although both rentals and revenue for Redbox increased significantly in July and August over 2012 levels, they were not to our expectations. In addition, heightened promotional discount activity, which added new customers during the quarter, had an adverse impact on the expected average transaction size and we believe drove consumers toward more single night rentals," said J. Scott Di Valerio, chief executive officer of Outerwall.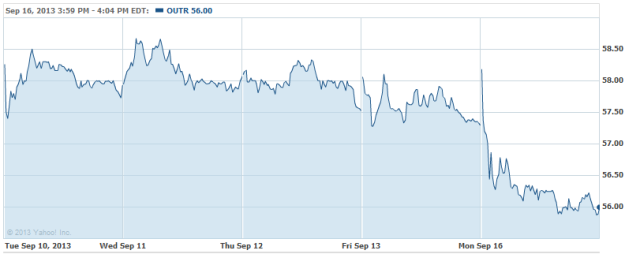 Shares of NVIDIA (NASDAQ:NVDA) attracted attention in late afternoon hours. The company named Colette Kress, a 24-year veteran of the tech industry, as executive vice president and chief financial officer. "We have searched extensively for the right candidate and are thrilled to have Colette join us," said Jen-Hsun Huang, chief executive officer. "She brings fantastic experience, excellent financial management skills and deep industry knowledge to NVIDIA."

Apple (NASDAQ:AAPL) shares declined 3.2 percent on Monday, making it the worst performer in the S&P 500. Although Apple is still lacking a distribution deal with China Mobile (NYSE:CHL), the iPhone maker appears to be having no problem selling its new devices through the country's other carriers. As reported by Bloomberg, China Unicom (NYSE:CHU) recently announced via microblogging site Weibo that reservations for the iPhone 5S and iPhone 5C have surpassed 100,000 units.

Don't Miss: Beware of These 6 Most Popular Financial Scams
Follow Eric on Twitter @Mr_Eric_WSCS