Radar Movers: Apple's iPad 5 Expected to See Shrinkage, Safeway Surges 41%
Shares of H&R Block (NYSE:HRB) jumped more than 2 percent in late afternoon hours, despite reporting weaker-than-expected quarterly results. Net income rose to $664.3 million ($2.42 per share), compared to $586.1 million ($1.99 per share) a year earlier. Analysts were expecting earnings of $2.61 per share. "Considering the challenges the industry faced this tax season, we're pleased to have executed well and delivered improved profits," said Bill Cobb, president and chief executive officer.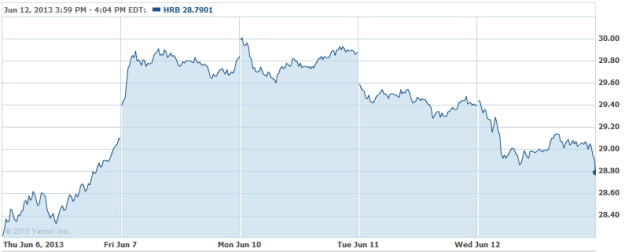 Safeway (NYSE:SWY) shares exploded 41 percent higher in late afternoon trading. The grocery store chain announced it will sell its Canadian operations to Sobeys for $5.7 billion in cash. "We are pleased to enter into this agreement with Sobeys in order to realize the higher multiples attributed to Canadian supermarket companies," said Robert Edwards, president and chief executive officer of Safeway Inc. "The substantial cash proceeds from this transaction will allow us to create value for Safeway stakeholders and contribute to the growth of the ongoing business."
Shares of PVH (NYSE:PVH) surged 6.2 percent in late afternoon hours. The parent company of Calvin Klein and Tommy Hilfiger reported better-than-expected first-quarter results. PVH earned $1.91 per share, easily beating estimates calling for $1.35 per share. Compared to last year, revenue jumped 36 percent to $1.94 billion. Shares of Gap (NYSE:GPS) edged slightly lower.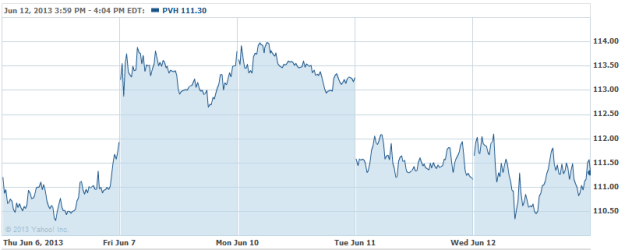 Apple (NASDAQ:AAPL) declined 1.2 percent along with the general market on Wednesday, but more clues continue to surface about the next iPad. Gumdrop, a manufacturer of designer Apple product cases, has just released a smaller-size iPad 5 case. The size of the case seems to be consistent with information from previously reported rumors that stated the iPad 5 will be approximately 15 percent thinner and 25-33 percent lighter than the previous generation of iPad. Gumdrop has even posted an interactive video with a 360-degree view that compares the reduced size of the latest iPad to the last generation of the device.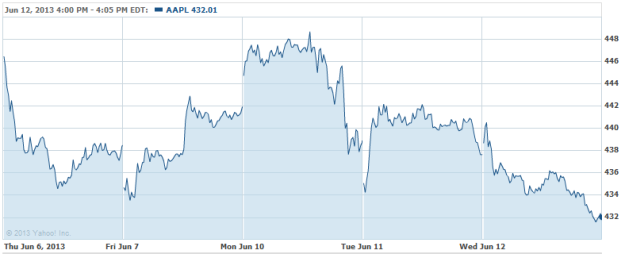 Don't Miss: 3 Ways Baby Boomers Are Redefining Retirement?
Follow Eric on Twitter (@Mr_Eric_WSCS)