Radar Movers: Apple's iPad Air Hits Stores, Tesla and First Solar Climb Higher
Shares of JPMorgan Chase (NYSE:JPM) jumped nearly 2 percent on Friday, despite more headaches becoming evident for the bank. JPMorgan Chase disclosed a widening investigation into its hiring procedures in China. In July, the company indicated in a quarterly filing that the Securities and Exchange Commission's division of enforcement was requesting information and documents in regards to its hiring practices in Hong Kong. Now, JPMorgan Chase disclosed in a filing that the Justice Department and other authorities are also probing the matter. According to the present filing, the inquiry into "hiring practices relating to candidates referred by clients, potential clients and government officials." Beyond that, the authorities are also investigating consultants hired by the bank.

Tesla Motors (NASDAQ:TSLA) shares started November with a pleasant 1.4 percent gain. Tesla suffered a 17 percent decline in October, the company's first drop since February and the biggest pullback since December 2010. Tesla posted its first profitable quarter ever this year, but even chief executive officer Elon Musk recently said, "The stock price that we have is more than we have any right to deserve. I'm not going to sit here and say we deserve every penny of that. I think it's more than we have any right to deserve. We're going to do our best to fulfill the expectations of investors and I think in the long-term that stock price is going to seem fair." Shares of Tesla are up about 380 percent this year.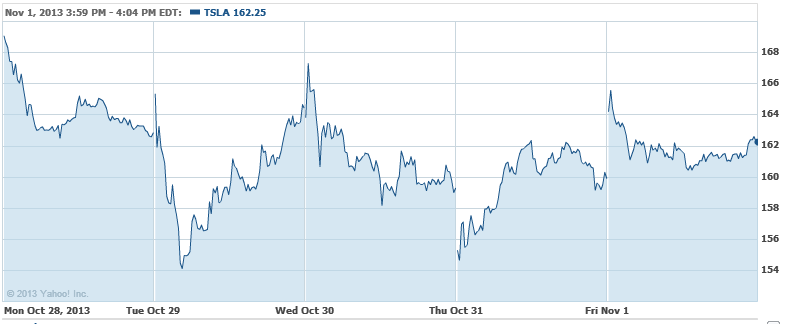 Shares of Apple (NASDAQ:AAPL) dipped 0.50 percent on Friday. Apple's recently unveiled iPad Air hit stores in the United States on Friday and reportedly sold out in Hong Kong. Wal-Mart, Best Buy, and Staples are offering the 16GB wi-fi only iPad Air at a $20 discount in the United States. Apple is also honoring the $479 price tag, as long as consumers bring proof of the discounted price. The new tablet has gotten rave reviews with its ultra-thin dimensions, it's also twice as fast and powerful thanks to its new 64-bit A7 processor.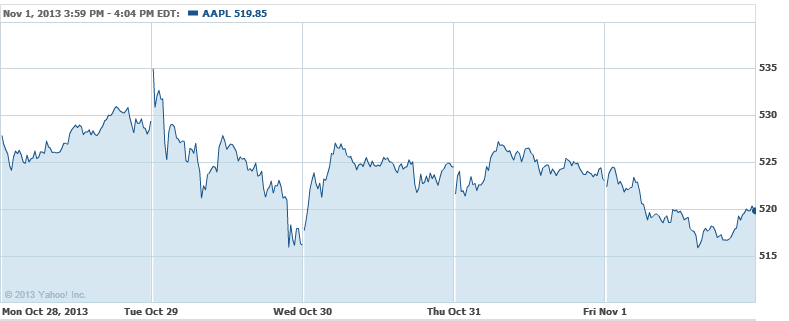 First Solar (NASDAQ:FSLR) surged more than 17 percent on Friday. Late Thursday, First Solar reported a third-quarter profit of $195 million ($1.94 per share), compared to $87.9 million ($1.27 per share) a year earlier. Revenue also jumped from $873 billion to $1.27 billion. "The third quarter marks a key milestone in our Company's progress in achieving the strategic objectives we outlined during our Analyst Day event in April," said Jim Hughes, First Solar CEO. "During the quarter we delivered on several key objectives, including additional bookings of 860MWdc, significant reductions to our module manufacturing cost, and strong financial performance. With these encouraging results achieved, we move forward, focusing on strengthening our leadership position in the marketplace and achieving our strategic objectives for future success." First Solar also raised its guidance on gross margins.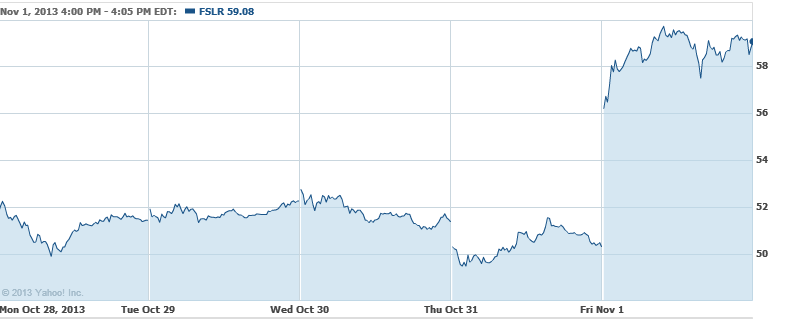 Don't Miss: The Federal Reserve: Trust Us, We're Watching the Data Closely
Follow Eric on Twitter @Mr_Eric_WSCS