Radar Movers: Apple's iPad Air Off to Strong Start, BlackBerry Crashes 16%
Shares of BlackBerry (NASDAQ:BBRY) plunged 16.4 percent on Monday and continued to attract attention in late afternoon hours. BlackBerry revealed that it is abandoning the hunt for a buyer and is instead replacing its incumbent CEO, Thorsten Heins. Rather than a sale to another party, Fairfax Financial and other institutional investors will be investing $1 billion in BlackBerry by means of a convertible debt featuring a 6 percent yield and a $10 per share conversion price. BlackBerry shares are down about 45 percent year-to-date.

Apple (NASDAQ:AAPL) shares gained 1.3 percent on Monday and continued to edge higher in late afternoon trading. Mobile ad firm Fiksu reports that Apple's just released iPad Air is experiencing five times the usage as the iPad 4 did on its launch weekend. Compared to the iPad Mini, the iPad Air is showing three times the usage. Last week, Apple CEO Tim Cook said it was going to be an "iPad Christmas" this year. Apple looks set to make his statement come true.

Shares of GT Advanced Technologies (NASDAQ:GTAT) surged more than 14 percent in late afternoon hours. GT Advanced Technologies announced a multi-year sapphire materials agreement with Apple, which should be "cash positive and accretive to earnings starting in 2014." Tom Gutierrez, GT CEO, explained, "We are very excited about this agreement with Apple as it represents a significant milestone in GT's long term diversification strategy."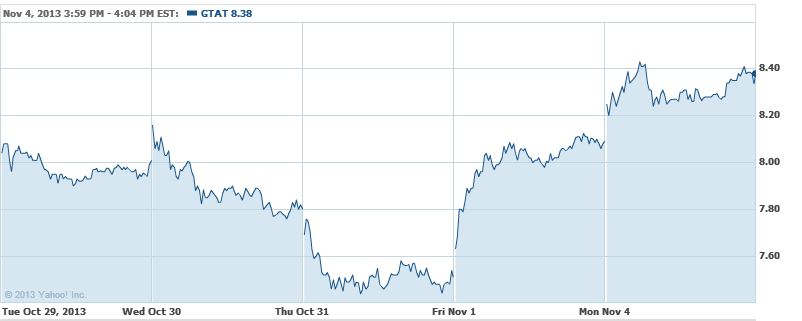 Twitter (NYSE:TWTR) is gaining momentum ahead of its highly-anticipated IPO. Recent regulatory filings show that Twitter had planned on offering 70 million shares between $17 and $20 each, but now Twitter is looking for a price as high as $23 to $25 per share. During an interview with Erik Schatzker on Bloomberg Television, Morgan Stanley Chief Executive James Gorman said that he believes Twitter. will get a "cleaner" initial public offering than Facebook did. Gorman commented that, "We'd like a cleaner opening. For the market's integrity, transparency that would be a very good thing. I think we'll get one."
Don't Miss: Gold Miners Not Making It Easy on Investors
Follow Eric on Twitter @Mr_Eric_WSCS