Radar Movers: Apple's iRadio Mutes Pandora, Microsoft and GM Are Popular Again
Shares of Zynga (NASDAQ:ZNGA) plunged 12 percent on Monday and continued to edge lower in late afternoon hours. The social-gaming company plans to lay off about 520 employees by August. While the move is expected to save about $70 to $80 million, the cuts signal that Zynga is still struggling to improve profits. "The scale that served us so well in building and delivering the leading social gaming service on the Web is now making it hard to successfully lead across mobile and multiplatform, which is where social games are going to be played," said CEO Mark Pincus.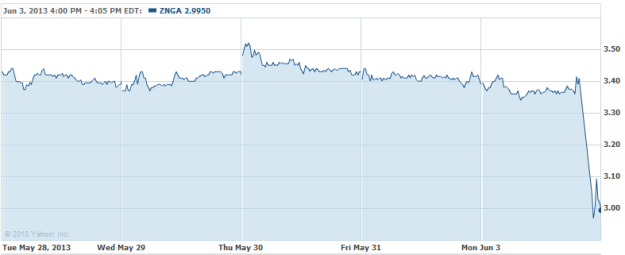 Microsoft (NASDAQ:MSFT) shares increased 2 percent on Monday. According to a new report from All Things D, Microsoft CEO Steve Ballmer has plans to restructure the company so it is more focused on "devices and services."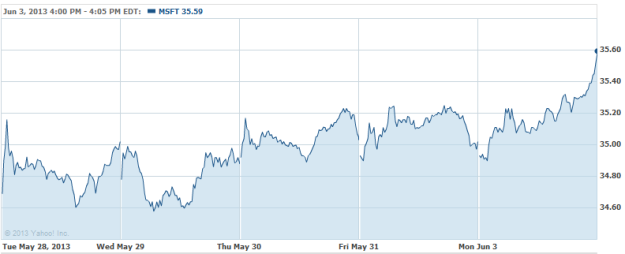 Shares of Pandora Media (NYSE:P) sank more than 10 percent on Monday and continued to trade lower in late afternoon hours. Apple's (NASDAQ:AAPL) attempt at an Internet radio service has been stymied by tough negotiations with record labels and music publishers, which both want higher royalty rates. But the iPhone maker has been pushing hard to get the needed licenses in time to unveil the service at its annual developers conference that begins June 10 in San Francisco. On Sunday, Apple inked a licensing deal with Warner Music Group for the rights to its recorded music and music publishing. The company has also signed a deal with the Universal Music Group for its recorded music rights.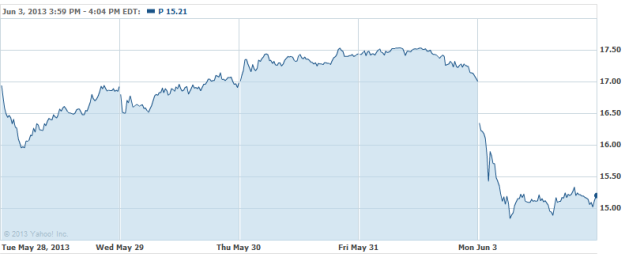 Shares of General Motors (NYSE:GM) jumped 3.5 percent in late afternoon hours. The company sold 252,894 vehicles in the United States last month, up 3 percent from a year earlier. "Cadillac is growing faster than it has in almost 40 years, the pickup rebound is in full swing and we're seeing strong retail demand for our crossovers" said Kurt McNeil, vice president of U.S. sales operations. "These are all powerful signs that the gradual recovery in the economy is becoming more broad-based. That's great news for the auto industry and General Motors." Furthermore, GM shares will replace Heinz in the S&P 500, according to Bloomberg.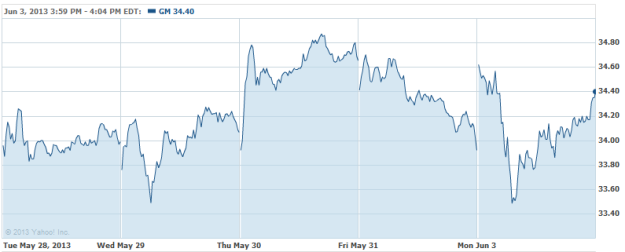 Don't Miss: Are Americans Feeling Better About Their Retirement Chances
Follow Eric on Twitter (@Mr_Eric_WSCS)