Radar Movers: Apple's Next iPhone Could Win Enterprise, McDonald's Changes Dollar Menu
Shares of Goldman Sachs (NYSE:GS) edged slightly higher on Thursday and continued to attract attention in late afternoon trading. The bank sold its largest structured notes outside the United States in six years, raising $151.5 million from securities linked with swaps. The 15-year notes will at first pay coupons based on the rate for 10-year euro constant-maturity swaps, which are benchmarks that measure the cost of the exchanging floating rate and fixed interest payments through the swaps market, according to data compiled by Bloomberg.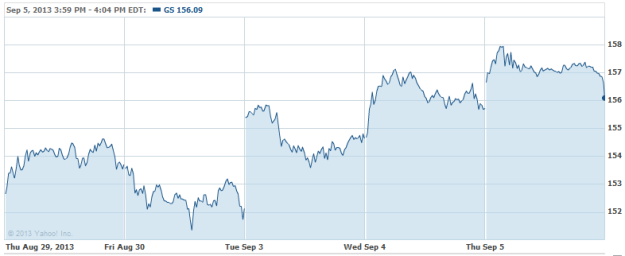 Shares of Microsoft (NASDAQ:MSFT) were flat on Thursday, despite positive chatter surrounding the company's new gaming console. Microsoft executive Yusuf Mehdi recently told Reuters that the Xbox One is in full production but that Microsoft still hasn't been able to keep up with preorder demands from retailers. "We have more preorders than any other Xbox console releases in history," Mehdi said.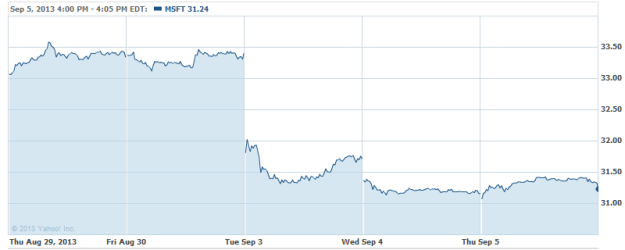 McDonald's (NYSE:MCD) shares attracted attention on Thursday as the fast-food giant prepares to make changes to its well-known Dollar Menu. McDonald's consumers will see their beloved Dollar Menu transform into "Dollar Menu & More" in some cities, with emphasis on the "more." The new menu still has some crowd favorites, including burgers and chicken patties that remain at $1, but it also now has new "shareable" items like 20-piece Chicken McNuggets priced at $5.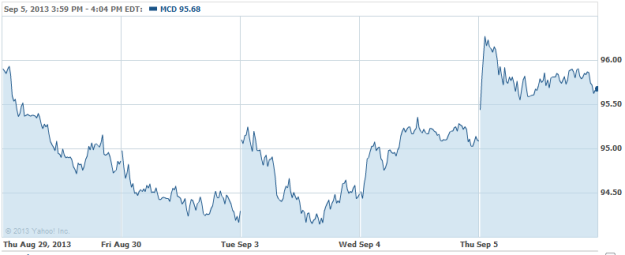 Apple (NASDAQ:AAPL) shares edged slightly higher in late afternoon hours. The rumored fingerprint sensor that may be finding its way into the iPhone 5S could bolster the company's mobile commerce and enterprise adoption, according to Wells Fargo analyst Maynard Um. "As consumers increasingly rely on mobile devices to transact and store personal data, a reliable device-side authentication solution may become a necessity," he said, adding that he also sees a fingerprint sensor driving sales in the enterprise market, as corporations are likely to see the benefits of strong security measures.

Don't Miss: The Great Recession Is Definitely Over for These 5 Banks
Follow Eric on Twitter @Mr_Eric_WSCS