Radar Movers: BlackBerry and Nuance Surge Higher, Apple Sinks 3%
Shares of Dell (NASDAQ:DELL) edged slightly higher in late afternoon hours. Anonymous sources say that Michael Dell will back the purchase of his namesake company by private equity firm Blackstone Group (NYSE:BX), but only if he can remain as the company's CEO. In meetings with Blackstone executives, Mr. Dell said he would be more likely to support their proposal if he retained an influential role, a source familiar with the talks said. Negotiations are ongoing and the two sides may not reach an understanding, according to Bloomberg.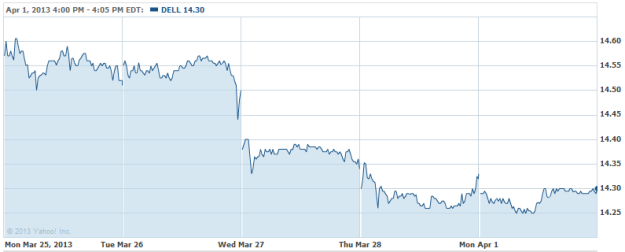 Nuance Communications (NASDAQ:NUAN) shares surged 9 percent in late afternoon trading. Billionaire investor Carl Icahn reportedly acquired a 9.27 percent passive stake in the tech company. Nuance provides speech recognition and voice activated software for businesses and consumers around the world.

Shares of Apple (NASDAQ:AAPL) dropped 3 percent on Monday and continued to edge lower in late afternoon trading. In the past few weeks, the Chinese communist party ran several campaigns on China Central Television and in the People's Daily newspaper to damage Apple's reputation in the country. The primarily aim of the campaign was to accuse Apple of having a discriminatory customer service policy in China. Chinese media subsequently criticized Apple's handling and response to the matters. Now, Apple apologized for its inept handling of the situation and lack of an adequate response. The apology was posted on Apple's Chinese website and signed by Apple CEO Tim Cook.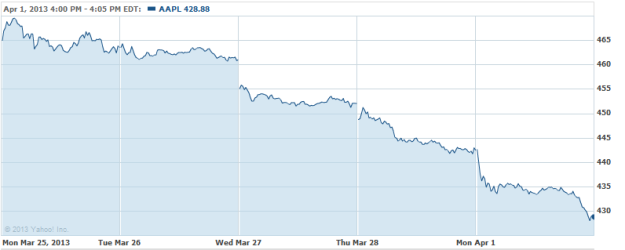 BlackBerry (NASDAQ:BBRY) shares jumped 4.6 percent on Monday and continued to climb higher in late afternoon hours. The company has been playing catch-up since Apple and Google's (NASDAQ:GOOG) Android-powered devices hit the scene, but new products may keep recent momentum going strong. It's already clear that BlackBerry is planning to launch another smartphone for its BB10 operating system — this time with a keyboard, not just a touchscreen — but it seems that the company may be planning to increase the tablet offerings to include a widescreen option, and even some of the smaller form factor devices — now often referred to as phablets. One of the phablets may even include a built in keyboard, which would be a unique feature in the tablet market, according to Computerworld.

Don't Miss: Will These High Fees Steal Your Retirement?