Radar Movers: BlackBerry Surges 7%, Buffett Brings Consumer Goods into Focus
Shares of Apple (NASDAQ:AAPL) closed flat on Thursday, despite hedge fund giant Bill Ackman saying saying he does not want to buy Apple because it was incredibly hard to value. "The problem with Apple is it's hard to predict cash flows over the next fifty years, or even the next five years," Ackman said. "A watch sounds cool, but you know, what is the next thing that's really going to drive the next stage in the business?"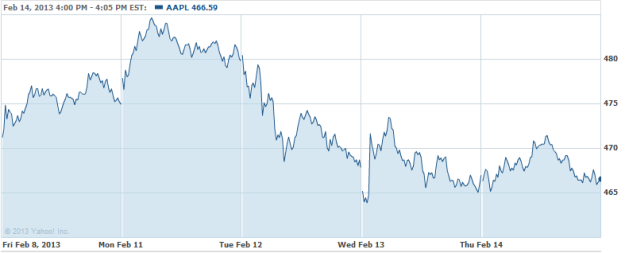 BlackBerry (NASDAQ:BBRY) shares continue to rise in late afternoon hours. Shares surged more than 7 percent on Thursday, even after it was disclosed that former chief executive officer Jim Balsillie sold his entire stake in the company by the end of last year. Balsille, who stepped down a year ago, owned nearly 27 million shares as of December 31, 2011.

Shares of CBS (NYSE:CBS) dropped nearly 2 percent after reporting financial results for the fourth quarter. Revenue increased 2 percent to $3.70 billion, compared to $3.61 billion a year earlier. The results missed estimates, but the company remains upbeat about the upcoming year. "CBS had a record year in 2012, as well as a record fourth quarter, and the momentum is building for an even better 2013," said Leslie Moonves, president and chief executive officer. "Advertising revenue is growing, and our revenue from non-advertising sources continues to grow even faster."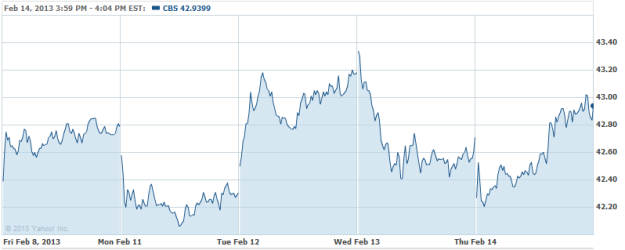 Companies such as Campbell Soup (NYSE:CPB) and Hershey (NYSE:HSY) continue to attract attention as H.J. Heinz (NYSE:HNZ) placed a spotlight on consumer goods. Warren Buffett announced that Berkshire Hathaway (NYSE:BRKA) and 3G Capital will acquire Heinz in a $28 billion transaction, the largest ever for the food industry. "Heinz has strong, sustainable growth potential based on high quality standards, continuous innovation, excellent management and great tasting products," commented Buffett.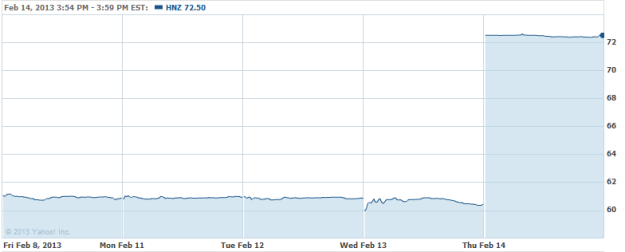 Don't Miss: Are Central Banks Still in Love With Gold?