Radar Movers: BlackBerry Surprises Wall Street, Speculation Builds on iPhone 6
Shares of Ford (NYSE:F) dipped on Thursday and continue to attract attention in late afternoon hours. International forecasts for the automaker don't appear to be getting better, as company predictions for its South American division suggest that the manufacturer may lose as much as $300 million in the region. Coupled with the predicted $2 billion annual loss that the company is expecting from Europe, the next quarter is putting enormous pressure on Ford's North American and Chinese operations to carry the company through. Shares of General Motors (NYSE:GM) also declined.

AT&T (NYSE:T) shares edged slightly higher on Thursday, but gave back the gains in late afternoon trading. The company moved the base price of the Samsung Galaxy S 4 up by $50 over its predecessor and the iPhone 5. The Galaxy S 4 will go for $250 on AT&T with a two-year contract, and will be available for pre-orders beginning April 16. AT&T has yet to announce an actual release date for Samsung's next flagship phone. T-Mobile is the only other domestic carrier to announce Galaxy S 4 pricing thus far. Under the carrier's new subsidy-free plans, it will be available May 1 for $99 up-front, plus $20 per month for two years.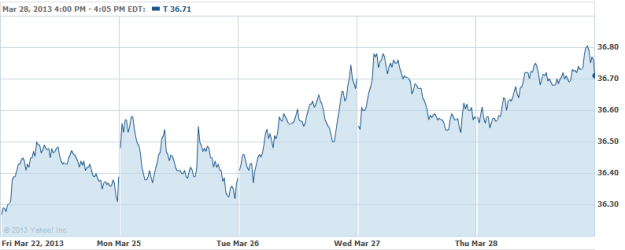 Shares of BlackBerry (NASDAQ:BBRY) edged slightly higher in late afternoon hours. The company surprised Wall Street with a surge in fourth-quarter profit. According to the company, it shipped 6 million smartphones during the last quarter, including 1 million devices using its critical BlackBerry 10 operating system. Last week, BlackBerry launched its Z10 touchscreen smartphone in the U.S. for AT&T.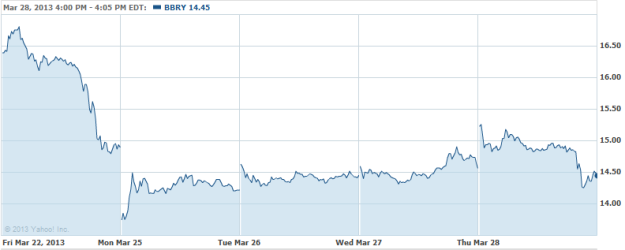 Apple (NASDAQ:AAPL) shares skipped the rally on Thursday, as they fell 2 percent. However, speculation continues to build about the next iPhone. A new patent shows a smartphone-like device that is quite different from those of today, as the screen cannot exactly be described as flat. The patent, which was filed for in 2011, described a device similar to an iPhone, but instead of being rectangular and brick-like, the visual shows that the sides actually rounded so that the front simply curves around to the back and vice versa. The tops and bottoms still remain flat.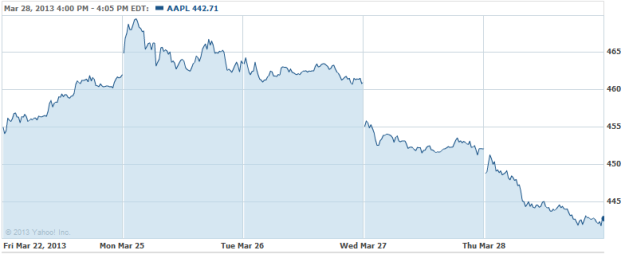 Don't Miss: Is the College Debt Bubble Finally Bursting?