Radar Movers: Broadcom and Panera Plunge After Guidance, Apple Unveils New Products
Shares of Broadcom (NASDAQ:BRCM) plunged more than 6 percent in late afternoon hours. Broadcom reported quarterly earnings of 76 cents per share on revenue of $2.15 billion, topping estimates calling for 69 cents per share on revenue of $2.13 billion. However, Broadcom's revenue guidance of $1.975 billion disappointed Wall Street. "Broadcom delivered better-than-expected results across the board in the September quarter," said Scott McGregor, Broadcom's President and CEO. "Looking forward, we are taking the necessary steps to tightly manage the business while focusing on strategic initiatives, including LTE, data center innovation and driving the next generation of home video with HEVC."

Amgen (NASDAQ:AMGN) shares gained 2.3 percent on Tuesday and continued to edge higher in late afternoon trading. Amgen reported quarterly earnings of $1.94 per share, easily beating Wall Street's estimate of $1.77 per share. Amgen also hiked the lower-end of its full-year earnings guidance. "We delivered excellent operating performance this quarter," said Robert A. Bradway, chairman and chief executive officer of Amgen. "We also delivered excellent strategic progress with the acquisition of Onyx Pharmaceuticals in oncology, the opening of our alliances in Japan and China, and the repurchase of our rights to NEUPOGEN and Neulasta in key emerging growth markets around the world."

Shares of Apple (NASDAQ:AAPL) broke their nine-day winning streak on Tuesday, but edged slightly higher in late afternoon hours. Apple unveiled a thinner and lighter version of its 9.7-inch iPad, newly named the iPad Air, as well as a model of its 7.9-inch iPad mini that features Apple's Retina display (the same resolution as the larger Air). The company also announced that its new computer OS, Mavericks, will be offered for free to Mac users; the iPad Air features Apple's A7 chip and M7 motion co-processor, both of which are found in the iPhone 5S. Apple also refreshed its Macbook lineup.

Panera Bread (NASDAQ:PNRA) shares fell more than 3 percent in late afternoon trading. Panera Bread reported quarterly earnings of $1.48 per share on revenue of $572 million, beating estimates calling for earnings of $1.35 per share. However, Wall Street expected revenue of $584 million, and Panera Bread's outlook disappointed investors. It now expects fourth-quarter earnings of $1.91 to $1.97 per share, down from $2.05 to $2.11 per share.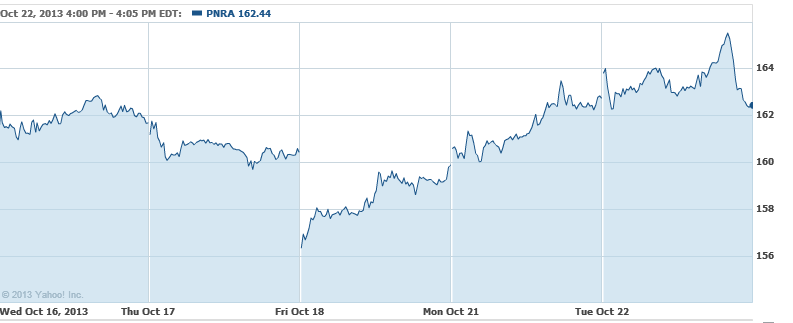 Don't Miss: Netflix: Why Are Investors Hitting the Pause Button?
Follow Eric on Twitter @Mr_Eric_WSCS