Radar Movers: Cisco Tops Estimates, Hedge Fund Rotates From Apple to Facebook
Shares of Cisco Systems (NASDAQ:CSCO) fell more than 2 percent in late afternoon trading, despite beating estimates for the its fiscal second quarter. Net income came in at $2.7 billion (51 cents per share), compared to $2.6 billion (47 cents per share) a year earlier. Sales increased 5 percent to $12.1 billion. Analysts expected earnings of 48 cents on revenue of $12.06 billion. "Cisco delivered record earnings per share this quarter and record revenue for the 8th quarter in a row in a challenging economic environment. We continue to drive the innovation, quality and leadership our customers expect, and we remain focused on consistent returns to our shareholders," said John Chambers, chairman and chief executive officer.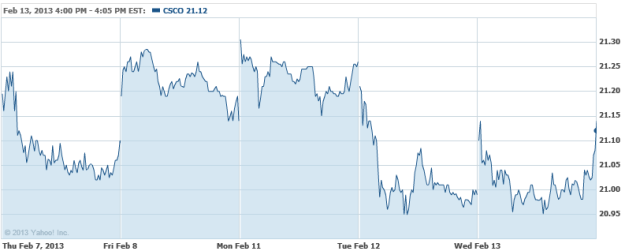 Whole Foods Market (NASDAQ:WFM) shares dropped 4.3 percent after providing a weak outlook for the year. "The company does not expect to produce the same level of EPS growth over the remainder of the year as it produced in the first quarter," Whole Foods said in a statement. "Due primarily to tougher gross-margin comparisons, particularly in the second- and third-quarters of last year, along with its ongoing strategy to expand value offerings across the store to improve its competitive price positioning."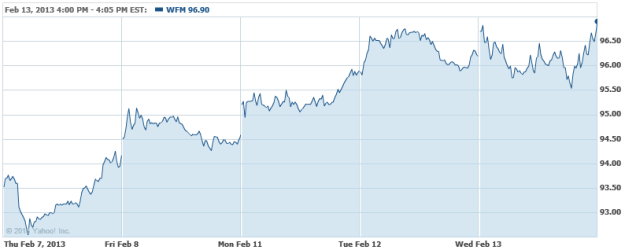 Shares of Apple (NASDAQ:AAPL) edged slightly lower on Wednesday and continue to attract attention in late afternoon hours. The company introduced slight upgrades to its MacBook line on Wednesday, and alongside, announced that it was dropping prices of several of its notebooks. The starting version of the MacBook Pro with Retina display will now be sold for $1,499, while a new version with a 2.6 GHz processor and 256 GB of flash memory version will sell for $1,699.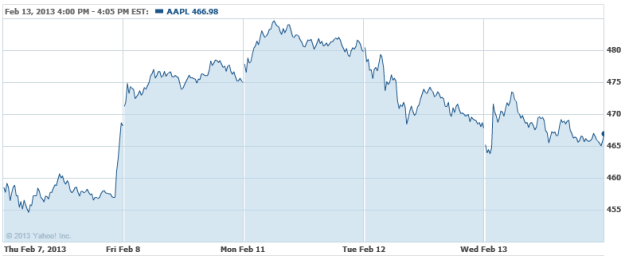 Facebook (NASDAQ:FB) shares jumped almost 2 percent on Wednesday. According to a U.S. Security and Exchange Commission filing, Omega Advisors' Leon Cooperman sold his holdings in Apple recently and purchased shares of Facebook instead. Other Internet names such as LinkedIn (NYSE:LNKD) and Groupon (NASDAQ:GRPN) also climbed higher.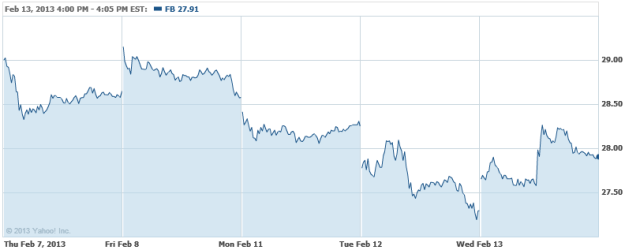 Investor Insight: Obama Gives a Shout-Out to These Companies