Radar Movers: Dell and J.C. Penney Disappoint, Apple Reaches New Milestone
Shares of Dell (NASDAQ:DELL) edged slightly lower in late afternoon hours. The company reported first-quarter earnings of $130 million (7 cents per share), down 81 percent from $635 million (36 cents per share) a year earlier. However, sales were better than expected. "We made progress in building our enterprise solutions capabilities in the first quarter and are confident in our strategy to be the leading provider of end-to-end scalable solutions," said Brian Gladden, chief financial officer. Hewlett-Packard (NYSE:HPQ) shares also edged slightly lower.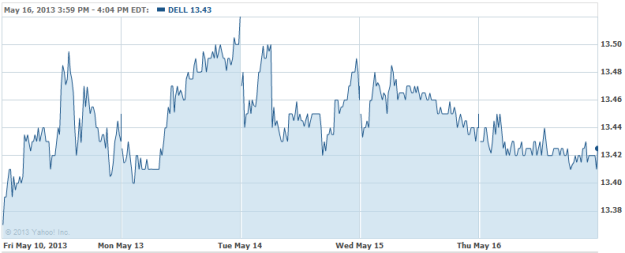 J.C. Penney (NYSE:JCP) shares dropped nearly 2 percent in late afternoon trading. The retailer reported a quarterly net loss of $348 million ($1.58 per share), compared to a net loss of $163 million (75 cents per shares) a year earlier. Mike Ullman, chief executive officer, says, "Our objective is to put jcpenney back on a path to profitable growth.  To achieve this, over the past five weeks we have taken critical steps to stabilize the business, including improving our balance sheet and ensuring we have our senior leadership in place."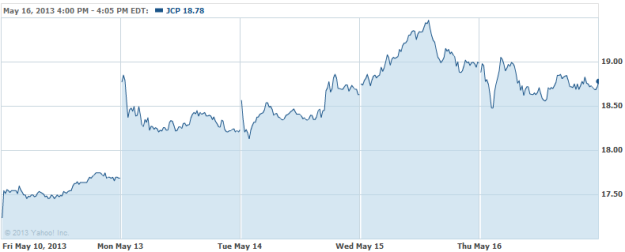 Wal-Mart (NYSE:WMT) shares sank 1.7 percent on Thursday after announcing disappointing quarterly results, but Warren Buffett still likes the world's largest retailer. Berkshire Hathaway's stake increased 5.1 percent in the first quarter to 49.2 million shares, compared to 47 million shares in the prior quarter. What other moves did Buffett make?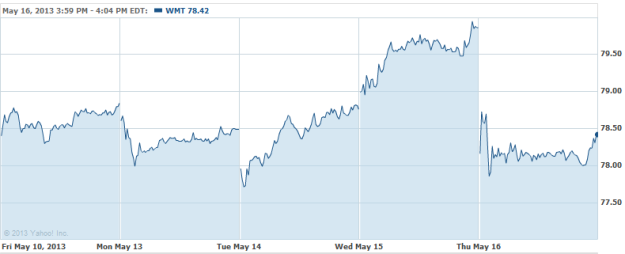 Shares of Apple (NASDAQ:AAPL) increased 1.34 percent on Thursday and continued to edge higher in late afternoon hours. Ever since Apple initiated its app download countdown ticker earlier this month, many countdown ticker watchers have been predicting that the App Store would cross the 50 billion mark threshold before the month was out. It turns out they were right. Apple surpassed 50 billion downloads yesterday. Brandon Ashmore is the reported winner and received a $10,000 App Store gift card.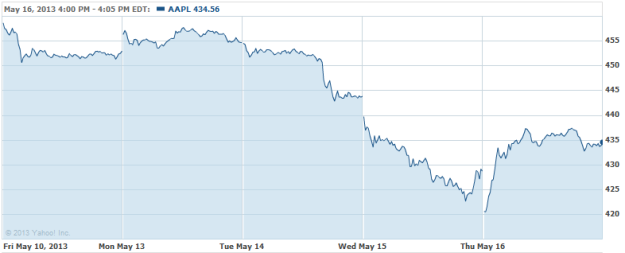 Don't Miss: Are Hedge Funds Dumping Gold?