Radar Movers: Disney Surprises with Earnings and Star Wars, HP Break-Up Rumors
Shares of Disney (NYSE:DIS) jumped more than 1.6 percent in late afternoon trading after announcing quarterly financial results. For the fiscal first quarter, net income excluding items came in at 79 cents per share, topping estimates of 76 cents per share. Revenue increased 5 percent from the prior year to $11.34 billion. While speaking to CNBC, CEO Bob Iger revealed that Disney is working on stand-alone Star Wars films, in addition to Episode 7, 8 and 9.

Zynga (NASDAQ:ZNGA) shares surged 5 percent in late afternoon hours. The social-gaming company reported a fourth quarter loss of $48.6 million (6 cents per share), but adjusted earnings were a penny per share, beating the consensus for an adjusted loss of 3 cents per share. Daily active users increased 3 percent from a year earlier to 56 million. Facebook (NASDAQ:FB) shares also edged higher on the news.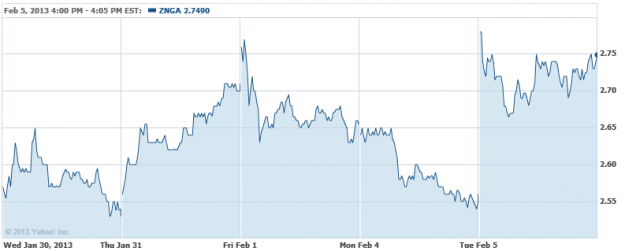 Shares of Apple (NASDAQ:AAPL) gained 3.5 percent on Tuesday and continue to attract positive attention in late afternoon hours. According to latest data from ad network Chitika, Apple's iPads accounted for 81 percent of tablet web traffic in North America, compared to the Kindle Fire's 7.78 percent and the Samsung (SSNLF.PK) Galaxy line's 3.9 percent. However, while Apple's share fell from 87 percent in December, Amazon's share grew from 4.25 percent for December and more than doubled from 3.57 percent in November. The share of the Galaxy line of tablets was up from 2.65 percent in December.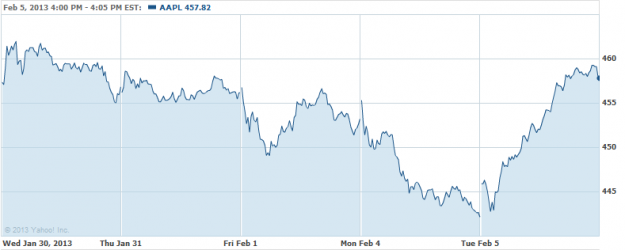 Hewlett-Packard (NYSE:HPQ) shares jumped 4.2 percent after Quartz's Gina Chon and Kevin Delaney said that the struggling company's board of directors "is studying a break-up." Citing unnamed sources, the move is aimed "to obtain maximum value for shareholders." HP responded by saying it would not comment on the matter.

Don't Miss: Why is the Justice Department Really Suing S&P?