Radar Movers: Disney's 'Iron Man 3′ Hits $1 Billion, Apple Prepares iPad Mini 2 Launch
Shares of Ford Motor (NYSE:F) jumped 3 percent on Friday and continued to edge higher in late afternoon hours. The company's Lincoln brand has been redesigned, which helped U.S. sales soar 21 percent in April, and the Dearborn-Michigan based automaker is now using China as a laboratory to study the shopping habits of luxury shoppers in Shanghai for new methods of customer service that could eventually be employed at Lincoln dealerships in the United States. Shares of General Motors (NYSE:GM) also jumped 3 percent on Friday.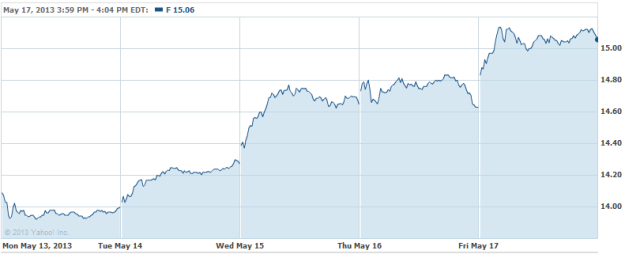 Walt Disney (NYSE:DIS) shares edged slightly higher on Friday, as "Iron Man 3" broke the $1 billion mark in global sales. The blockbuster cleared the milestone in only 24 days, an accomplishment that only Disney's "The Avengers" has ever topped in the comic book department. After clocking $160 million last weekend alone, observers are betting the film will break the top ten of all-time box office sales.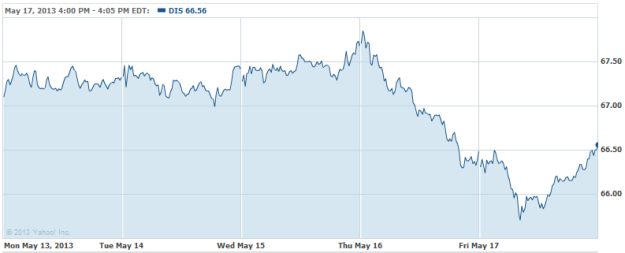 Google (NASDAQ:GOOG) shares finished Friday about 0.60 percent higher. However, Congress is becoming more interested in the tech giant. Eight members of Congress have sent a letter to Google Chief Executive, Larry Page, asking him how he can account for privacy safety with his new wearable-computing device. Among the most significant questions is how Google will guarantee its glasses aren't accumulating users' information without their consent. The use of facial-recognition technology is also a point of inquiry.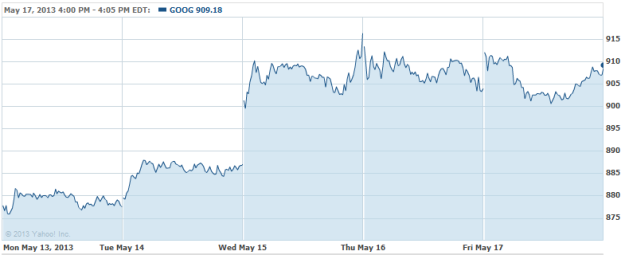 Shares of Apple (NASDAQ:AAPL) skipped the rally on Friday, but continued to attract attention in late afternoon hours. The latest rumors from Apple's supply chain may indicate preparations for the production of the next generation of iPad mini. According to the Taiwan-based DigiTimes, Apple has already selected LG Display (NYSE:LPL) and Sharp as panel suppliers for Apple's next iteration of the iPad mini, which is expected to debut in the third or fourth quarter of this year.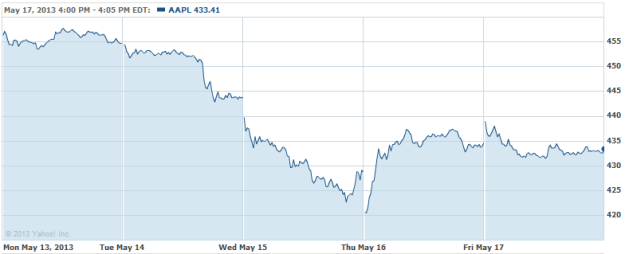 Don't Miss: Are Americans Still Delaying Retirement?