Radar Movers: Facebook and Apple Trade Lower, Qualcomm Surges
Shares of Facebook (NASDAQ:FB) dipped in late afternoon trading. The world's largest social media company reported financial results for the fourth quarter. Net income came in at $64 million (3 cents per share), compared to $302 million (14 cents per share) a year earlier.
Excluding certain items, earnings came in at 17 cents per share, up from 15 cents per share. Revenue surged 40 percent to $1.59 billion. Zynga (NASDAQ:ZNGA) shares gained 1.6 percent.

Apple (NASDAQ:AAPL) shares edged slightly lower in late afternoon hours, but are holding above $450. The crushingly negative sentiment following Apple's fiscal first-quarter earnings report may have been a hasty reaction from investors, according to Barclays Capital.
Analyst Ben Reitzes writes in a research note, which also reiterates an Overweight rating and a $575 price target on the stock, that Apple's earnings call last Wednesday "deserves another look." He adds, "Apple's level of cash generation remains very impressive."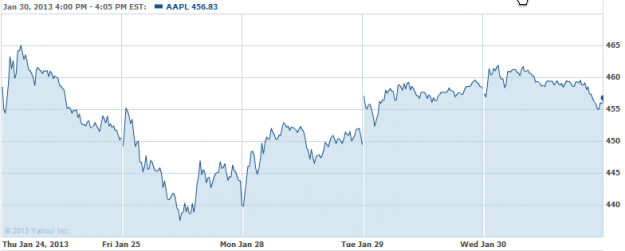 Shares of Research in Motion (NASDAQ:RIMM) closed 12 percent lower on Wednesday and continue to decline in late afternoon trading. The company made its first product launch in 18 months with a redesigned operating system and two new phones, the Z10 and the Q10. RIM is also changing its corporate name to BlackBerry, signaling a last ditch effort to gain market share in the smartphone industry.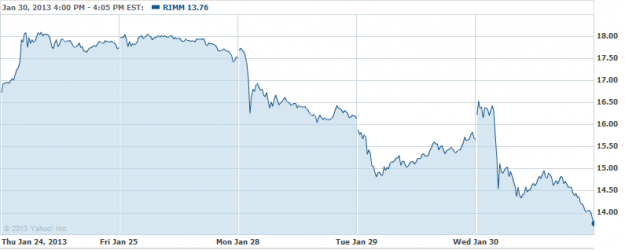 Qualcomm (NASDAQ:QCOM) shares jumped more than 6 percent after releasing financial results for its fiscal first quarter. The chip maker earned $1.91 billion ($1.09 per share), compared to $1.4 billion (81 cents per share) a year earlier. Qualcomm also raised its full-year revenue guidance.

Investor Insight: How Ugly is the Student Loan Bubble?