Radar Movers: Facebook Hacked! Wal-Mart Hit By Fiscal Cliff
Shares of Facebook (NASDAQ:FB) declined in late afternoon hours after saying it was the target of a series of attacks from unidentified hackers. The social media company explains in a statement, "Last month, Facebook Security discovered that our systems had been targeted in a sophisticated attack. This attack occurred when a handful of employees visited a mobile developer website that was compromised. The compromised website hosted an exploit which then allowed malware to be installed on these employee laptops. The laptops were fully-patched and running up-to-date anti-virus software. As soon as we discovered the presence of the malware, we remediated all infected machines, informed law enforcement, and began a significant investigation that continues to this day." There is no evidence so far that any user data was compromised.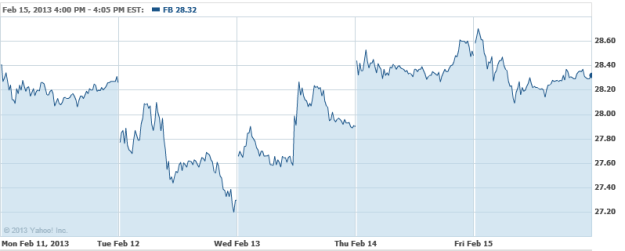 Apple (NASDAQ:AAPL) shares traded lower on Friday, despite more chatter about upcoming products. Piper Jaffray's Gene Munster says he is seeing trends that lead him to believe Apple is likely to host a major product event before the end of April. According to the analyst, the event could possibly see the introduction of redesigned iPads. "We believe that looking at the history of time between Apple product launch events suggests that the company will introduce something new in March or April," Munster writes in a note for clients on Friday. "Over the past two years, the spring event has been iPad updates."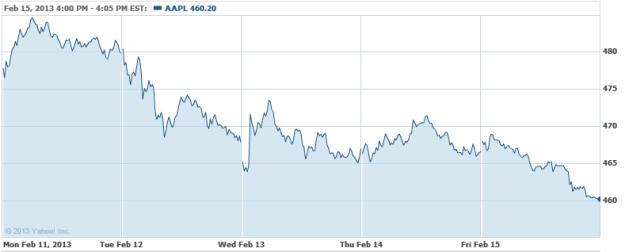 Shares of Wal-Mart (NYSE:WMT) continue to head lower in late afternoon trading. Cleveland Research announced that Wal-Mart's U.S. sales have slowed significantly over the past three to four weeks, and that its first quarter comparable same-store sales were already running negative. The firm added that it currently "sees downside to consensus estimates for the year and potential downside back to the mid to low $60s." In a series of emails leaked to Bloomberg on Friday, one Wal-Mart executive called February sales a "total disaster." The publication's report showed an email from Wal-Mart's vice president of finance and logistics, Jerry Murray. "In case you haven't seen a sales report these days,  February MTD sales are a total disaster," he wrote on February 12. "The worst start to a month I have seen in my ~7 years with the company." Target (NYSE:TGT) shares also closed lower on the news, but traded higher in late afternoon hours.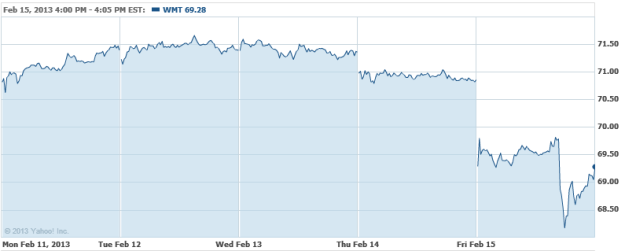 Herbalife (NYSE:HLF) shares finished the day 1.2 percent higher and continue to gain in late afternoon hours. Carl Icahn recently filed a disclosure with the Securities and Exchange Commission that shows he bought more than 14 million shares of the nutritional supplement marketer. Through common shares and options, Icahn has a 13 percent stake in the company. After extensive research, he believes Herbalife has a legitimate business model with favorable long-term opportunities for growth, while Bill Ackman of Pershing Square is short more than 20 million shares, because he believes it is a pyramid scheme. On Friday, Icahn appeared on CNBC and said, "I'm doing this to make money. That's what I do. The fact that I don't like Ackman is the strawberry on the ice cream."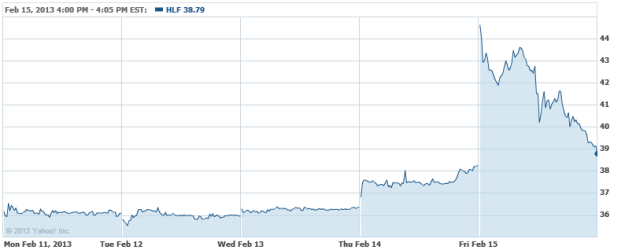 Don't Miss: Are Hedge Funds Still Interested In Gold?