Radar Movers: Facebook Hits New All-Time High, Apple Receives Upgrade
Shares of Crown Holdings (NYSE:CCK) sank more than 4 percent in late afternoon hours. Crown Holdings revised its earnings outlook for the third quarter to $1.05-$1.10 per share, below its previous guidance of $1.15-$1.25 per share. "The revised outlooks primarily reflect lower than expected end-user demand in certain of the Company's markets, including European food cans and North American beverage cans," Crown Holdings explained in a statement.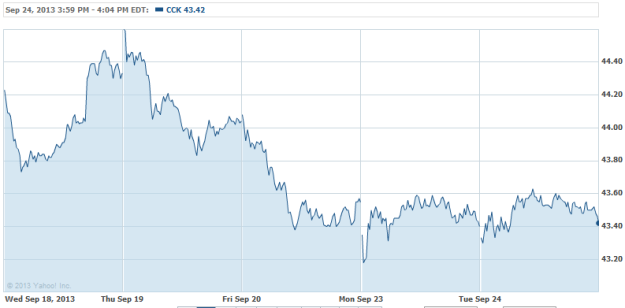 Boeing (NYSE:BA) shares jumped 1.3 percent on Tuesday and continued to edge higher in late afternoon trading. The move higher came despite news that Boeing lost its lead in the race for a deal to supply South Korea's military with its F-15 Silent Eagle fighter jets. The Boeing deal had been considered a front runner over alternative offers from Lockheed Martin (NYSE:LMT) and Typhoon (TYPFF.PK) as it was the only option that came in under budget, but public pressure to invest in more advanced planes has caused the South Korean government to reconsider, according to Reuters.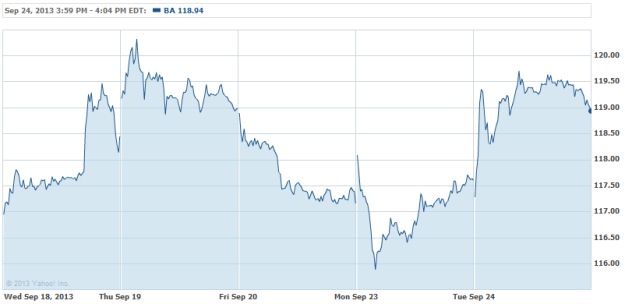 Shares of Facebook (NASDAQ:FB) surged nearly 3 percent on Tuesday to a fresh all-time high near $50. Citigroup upgraded Facebook from Neutral to Buy. Analyst Mark May wrote in an investor note that the catalysts that enabled Facebook to post strong second-quarter results should continue. Subsequent to chats with several Facebook advertisers, May reported that a number of them are hiking their spending on the social network by some 15 percent this quarter, and that ad prices continue to rise and desktop ads remain effective.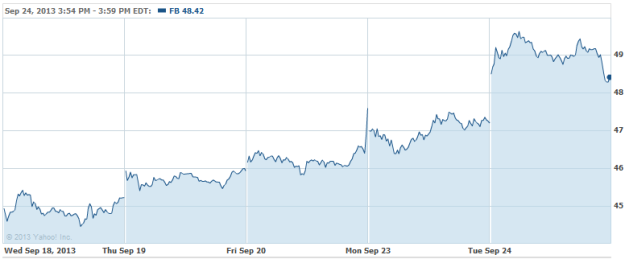 Apple (NASDAQ:AAPL) shares held steady on Tuesday after receiving an upgrade of its own. Susquehanna upgraded is Apple rating from Neutral to Positive with a price target of $625. It also increased its September-quarter iPhone unit assumption from 29 million to 30 million, and raised C3Q revenue to $36.8 billion and EPS to $7.91. This reflects a significant improvement from Susquehanna's earlier forecast modeling revenue of $35.6 billion and EPS of $7.45, and the firm isn't shy about the changes. Analyst Chris Caso maintained Tuesday, highlighted by Street Insider, "When the facts change, we change our minds — and the facts over the weekend indicated that Apple's new phone lineup was more successful than we and many others had expected, even after accounting for the greater worldwide distribution at launch."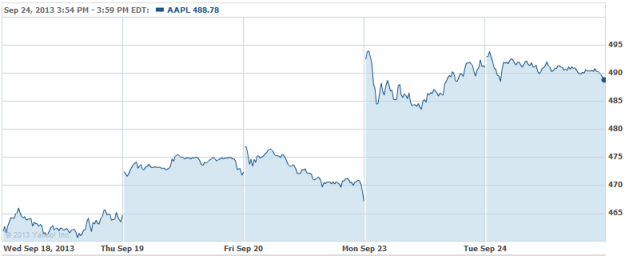 Don't Miss: These 8 Power Players Are Scoring Massive Web Traffic
Follow Eric on Twitter @Mr_Eric_WSCS