Radar Movers: Ford and GM Drive 3.3% Higher, Apple Skips Market Rally
Shares of Ford Motor (NYSE:F) jumped 3.3 percent on Tuesday to hit a fresh 52-week high. The automaker had its Overweight rating reiterated by JPMorgan Chase. The bank also thinks Ford can rise another 5 percent to hit $16 per share. Shares of General Motors (NYSE:GM) also gained 3.3 percent as Bank of America issued a $56 price target. On Tuesday, shares of GM closed at $33.96.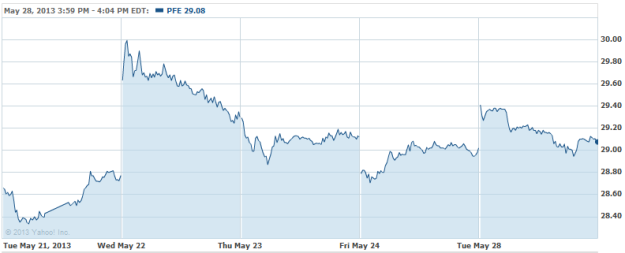 Guidewire Software (NYSE:GWRE) shares surged more than 7 percent in late afternoon hours. The company posted quarterly earnings of 4 cents per share, beating expectations by one penny. Guidewire Software also reported higher-than-expected revenue of $68 million. "Revenue and profitability were ahead of our expectations in the third quarter, and rolling four quarter recurring term license and maintenance revenue grew by 34 percent from a year ago. In addition to strong financial results, our momentum continued with PolicyCenter and full InsuranceSuite sales, international expansion and customer go lives," said Marcus Ryu, chief executive officer.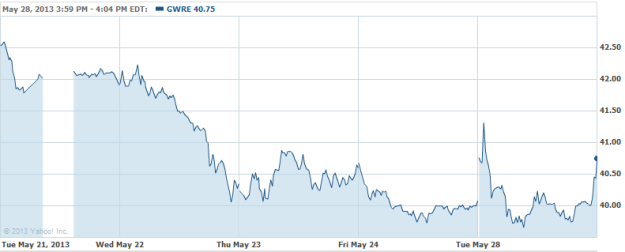 Wet Seal (NASDAQ:WTSL) shares jumped more 4.2 percent in late afternoon trading. The clothing retailer reported quarterly earnings of 3 cents per share on revenue of $140 million. Analysts expected 2 cents per share on revenue of $139 million. Wet Seal also provided better-than-expected current-quarter guidance.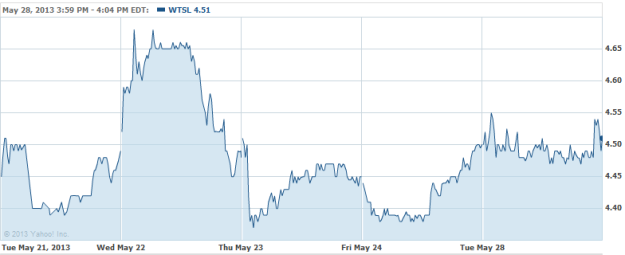 Shares of Apple (NASDAQ:AAPL) missed the broad market rally on Tuesday, finishing the day nearly 1 percent lower. Citigroup says that it does not recommend buying Apple shares, on concerns over channel checks that the firm conducted with suppliers. June quarter iPhone builds are are seeing an increase in iPhone 4/4S activity relative to iPhone 5, and the firm sees risk to Apple consensus estimates given the shift to lower-priced phones and expects shares will remain range-bound. The firm puts a Hold rating on the shares with a $430 price target.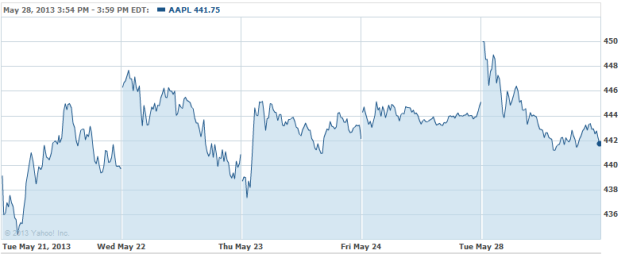 Don't Miss: How Many Homes Are Still Underwater?
Follow Eric on Twitter (@Mr_Eric_WSCS)