Radar Movers: GM Offers Black Friday Sales, Apple's iPad Mini Hits Retail Stores
Shares of Pandora Media (NYSE:P) fell 1.5 percent on Friday. Late Thursday, Pandora Media reported a quarterly loss of 1 cent per share, down from a 1 cent gain per share a year earlier. The company's outlook was also weaker than expected. However, Pandora Media earned 6 cents per share when excluding one-time items. "Pandora continues to monetize effectively across the board," stated Brian McAndrews, CEO, President & Chair of Pandora. "Mobile advertising revenue surpassed the $100 million milestone during the quarter, which drove increased operating leverage. At the same time, Pandora continues to lead the market in mobile innovations, with a complete redesign for the iPad and the debut of the Android tablet app."

Apple (NASDAQ:AAPL) shares closed slightly lower on Friday, but the tech giant appears to be gearing up for the holiday shopping season. Cantor Fitzgerald analyst Brian White shared his thoughts about the availability of Apple's iPad mini with Retina display. In the note obtained by Barron's, the analyst observed that Apple's second-generation iPad mini has finally started to become available for walk-in purchase at Apple's retail stores.
"As of late last night, the Fifth Avenue Apple Store received shipments for in-store pickup of the iPad mini with Retina Display and certain other NYC stores (Upper West Side, 14th Street) received shipments this morning, which we believe is an early indicator that other stores around the country (and world) will start to receive shipments over the next week," wrote White.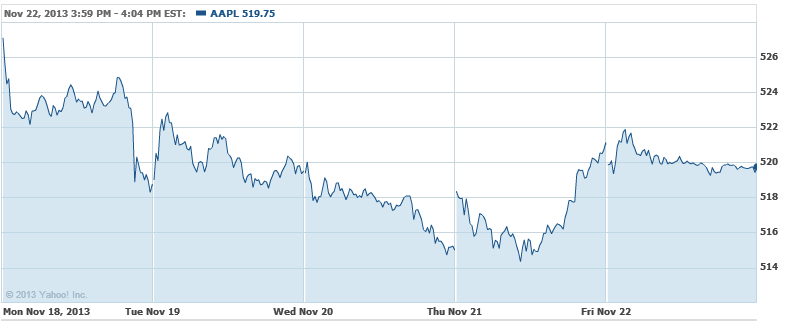 Shares of General Motors (NYSE:GM) fell 1.3 percent on Friday and continued to edge lower in late afternoon hours. GM will be offering a Black Friday sales promotion of its own spanning about two weeks on some of its most popular vehicles, enabling buyers across the country to purchase the vehicles for the same discounted prices that the company offers to the employees of its suppliers. The sale — which GM started on Wednesday — will run through December 2 and encompass the Buick, Chevrolet, and GMC brands, but excluded Cadillac.

Foot Locker (NYSE:FL) shares jumped 4 percent on Friday. Foot Locker posted better-than-expected financial results for the third quarter. Adjusted earnings came in at 68 cents per share, topping estimates of 66 cents per share. "It took a strong team effort to produce the solid top and bottom line results that we are reporting this morning," said Ken C. Hicks, Foot Locker CEO. "We have many strategies underway to drive our business, and the advances we have achieved are contributing to the current momentum we have towards reaching our long-range operational and financial goals."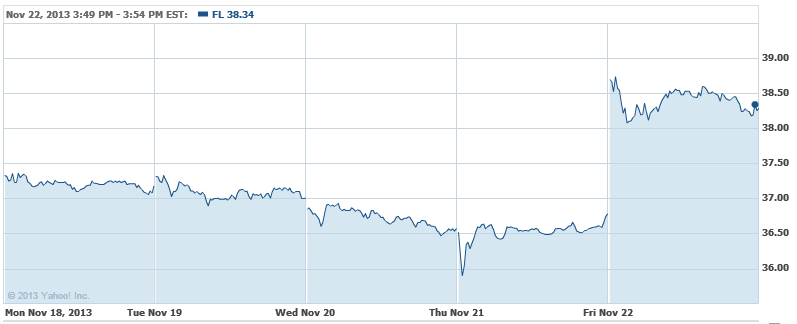 Don't Miss: Is Saving Money the Key to Happiness?
Follow Eric on Twitter @Mr_Eric_WSCS