Radar Movers: Google Breaks $900 as Apple Sinks 3.4%, Elon Musk to Buy $100 Million in Tesla
Shares of Cisco Systems (NASDAQ:CSCO) surged 6 percent in late afternoon hours after reporting financial results for the recent quarter. The networking giant posted net income of $2.5 billion (46 cents per share), up 14 percent from $2.2 billion (40 cents per share) a year earlier. "Cisco is executing at a very high level in a slow, but steady economic environment. We are especially pleased with our ninth consecutive record revenue quarter. We are starting to see some good signs in the US and other parts of the world which are encouraging," stated Cisco Chairman and CEO John Chambers.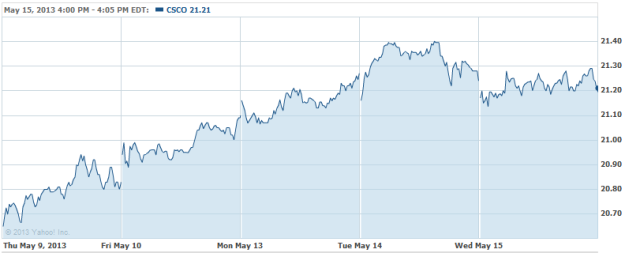 BlackBerry (NASDAQ:BBRY) shares closed 1.6 percent lower on Wednesday and continued to edge lower in late afternoon trading. Bernstein Research downgraded the company to market perform and lowered its price target on shares from $22 to $15.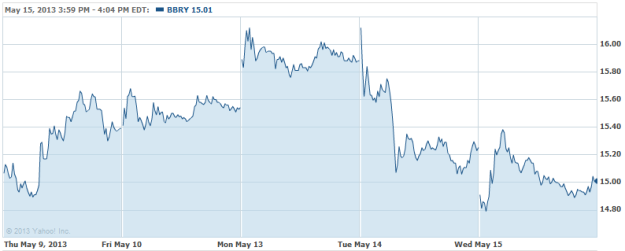 Google (NASDAQ:GOOG) shares gained 3.25 percent on Wednesday and continued to edge higher in late afternoon hours. For the first time in company history, shares crossed above $900. Shares first hit $800 less than three months ago. On Wednesday, the California-based company kicked off its three-day developer conference Google I/O in San Francisco. Google announced that Android has 900 million activations to date, compared to 400 million activations at last year's conference. It also unveiled a new subscription music service called All Access, which will be a direct competitor to other streaming services such as Spotify and Pandora (NYSE:P).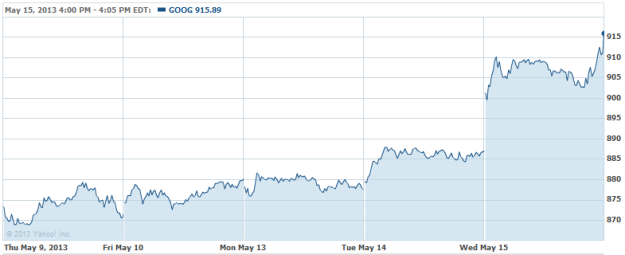 Shares of Tesla Motors (NASDAQ:TSLA) raced more than 4 percent higher in late afternoon hours. The company is raising money for business operations and to pay down government loans. According to a press release, "Tesla Motors announced today offerings of 2,703,027 shares of common stock and $450 million aggregate principal amount of convertible senior notes due 2018 in concurrent underwritten registered public offerings. In addition, Tesla has granted the underwriters a 30-day option to purchase up to an additional 405,454 shares of common stock and $67.5 million in aggregate principal amount of the notes." Founder Elon Musk will also buy $100 million in Tesla stock.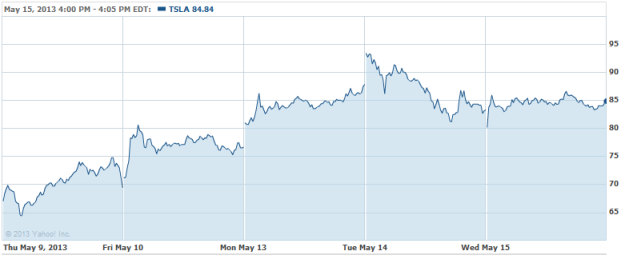 Apple (NASDAQ:AAPL) shares sank 3.4 percent on Wednesday and continued to attract attention in late afternoon trading. A recent filing reveals that David Tepper — the billionaire manager of the Appaloosa Management hedge fund — cut his stake in Apple by 41 percent in the first quarter of this year. During the 3-month period that ended March 31, Appaloosa unloaded 372,661 Apple shares, leaving the hedge fund with a total of 540,000 Apple shares worth approximately $239 million. However, billionaire manager David Einhorn increased his Apple stake from 1.3 million shares to 2.39 million shares.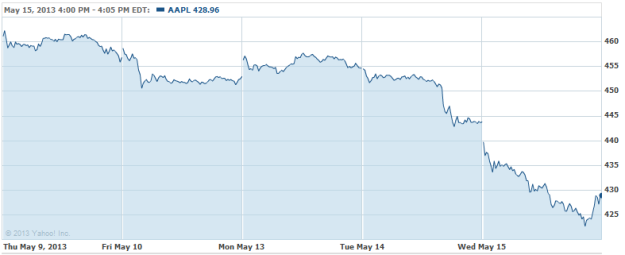 Don't Miss: The Student Debt Bubble Reaches a New Record