Radar Movers: Herbalife Attracts More Attention, Apple and Bank of America Decline
After a volatile day of trading, shares of Herbalife (NYSE:HLF) jumped 7.5 percent on Wednesday. Hedge-fund manager Daniel Loeb from Third Point LLC announced he has taken an 8.2 percent position in the nutritional-supplement company. This is the complete opposite of Bill Ackman from Pershing Square Capital Management, who believes Herbalife is a "pyramid scheme" and will reach a price of $0 a share. Herbalife traded almost 3 percent lower in late afternoon hours.

Apple (NASDAQ:AAPL) shares fell 1.5 percent on Wednesday and continue to edge lower in late afternoon trading. Several reports suggest that Apple is developing a lower-end iPhone to go after wider share of the mobile phone market. The device, made of less expensive materials than the company's current product lineup, may launch as early as later this year. Jim Cramer said he was on-board with the idea of a $100 iPhone if it meant bringing more people into the Apple ecosystem.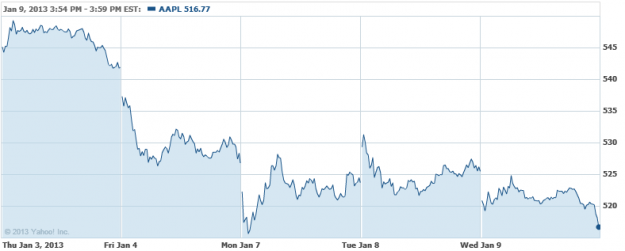 Start 2013 better than ever by saving time and making money with your Limited Time Offer for our highly-acclaimed Stock Picker Newsletter. Get our fresh Feature Stock Pick now!
Bank of America (NYSE:BAC) shares declined in late afternoon hours, adding to a 4.6 percent loss seen earlier in the day. Credit Suisse downgraded Bank of America to Neutral from Outperform. In a note to clients, the firm explains, "Current Valuation appears to be ahead of the company's near to intermediate-term performance and appears to be discounting significantly faster improvements in efficiency than we would be expecting." JPMorgan Chase (NYSE:JPM) also traded lower.

Shares of Facebook (NASDAQ:FB) added to impressive gains in late afternoon hours. The social media giant jumped more than 5 percent on Wednesday after sending out invitations for a press event for January 15, 2013 in Menlo Park, California. The invitation reads, "Come and see what we're building."

Investor Insight: Cheat Sheet: Gundlach's Year of the Snake 2013 Outlook