Radar Movers: Herbalife Creates Battle of the Billionaires, Apple Sinks Lower
Shares of Herbalife (NYSE:HLF) continue to attract attention in late afternoon trading, due to a battle of the billionaires on CNBC. Carl Icahn and Bill Ackman traded verbal jabs on live television. The issues regarded everything from past deals to how Ackman shorted Herbalife shares. Icahn said, "I'm telling you he's like a crybaby in the school-yard. I went to a tough school in Queens, you know, and they used to beat up the little Jewish boys. He was like one of the little Jewish boys crying." Ackman said, "The big issue about Carl Icahn, is he's not used to someone stepping up to him."

Apple (NASDAQ:AAPL) shares fell more than 2 percent on Friday. The tech giant continues to have a hard time finding support after releasing financial results for its fiscal first quarter. Apple even lost its status as the largest U.S. publicly traded company by market capitalization, with Exxon Mobil (NYSE:XOM) resuming the role. On January 25, 2012, Apple's stock-market value grew to $416.5 billion, beating out Exxon as the most valuable company in the world. The iPhone maker held onto that lead all of last year, even widening the gap to $240 billion in September when it hit a record high.

Shares of Microsoft (NASDAQ:MSFT) continue to edge higher in late afternoon hours after gaining almost 1 percent. The company recently posted quarterly earnings of $6.4 billion (76 cents per share), down from $6.6 billion (78 cents per share) a year earlier. Revenue increased 3 percent to $21.5 billion. "We see strong momentum in our enterprise business. With the launch of SQL Server 2012 and Windows Server 2012, we continue to see healthy growth in our data platform and infrastructure businesses and win share from our competitors," said Kevin Turner, chief operating officer at Microsoft.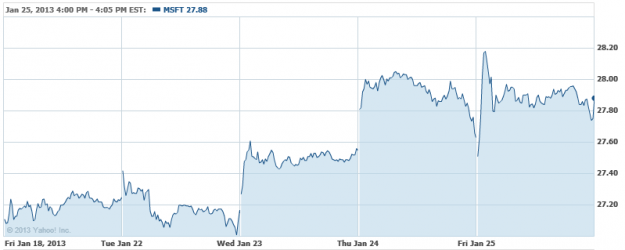 Netflix (NASDAQ:NFLX) shares gained 15 percent on Friday and continue to edge higher. The company is up a whopping 70 percent on the week after announcing quarterly results. Divisiveness between Netflix bulls and bears was incredibly high ahead of earnings. This is reflected not just in the large amount of short positions, but an enormously wide range of price targets held by analysts. Year-to-date, Netflix is the best performing stock in the S&P 500.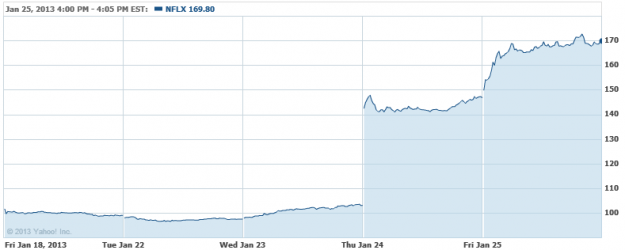 Investor Insight: How Big is the Apple Eco-System?