Radar Movers: J.C. Penney and BlackBerry Can't Stop Bleeding, Apple Named Most Valuable Brand
Shares of Berkshire Hathaway (NYSE:BRKA) dipped 1 percent on Monday, despite positive news about an investment. Berkshire Hathaway CEO Warren Buffett is once again queued up to make billions off of a white-knight investment he made in a major financial institution during the late-2000s crisis. Berkshire Hathaway is expected to receive approximately 13.2 million shares of Goldman Sachs (NYSE:GS) stock worth about $2 billion through the exercise of warrants acquired in return for a $5 billion loan made to the bank in 2008.

BlackBerry (NASDAQ:BBRY) shares dropped 1 percent on Monday and continued to edge lower in late afternoon hours. BlackBerry has agreed to pay Fairfax a $157 million breakup fee for a tentative takeover offer, according to Bloomberg. Such a deal could encourage Fairfax to move more quickly to obtain financing and confirm its buyout of BlackBerry, but it could also deter rival bidders — and that's a risk BlackBerry is willing to take.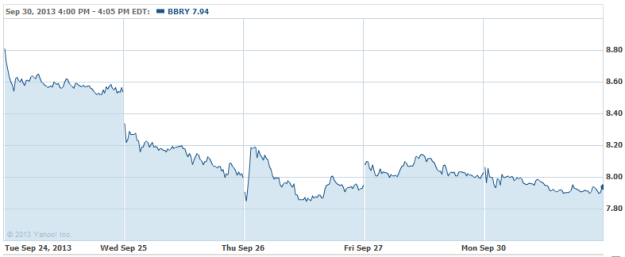 Shares of J.C. Penney (NYSE:JCP) fell 2.7 percent on Monday and continued to make new multi-decade lows in late afternoon hours. Perry Corp, which perviously held 19 million shares of J.C. Penney, cut its stake almost in half. The firm is just the latest market player to jump ship from the struggling retailer.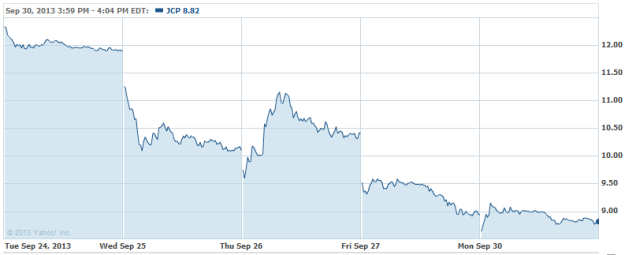 Apple (NASDAQ:AAPL) shares declined 1.2 percent on Monday. However, new data from Kantar reveals that the iPhone managed to take share (on a year-over-year basis) in the U.S., Europe, and Japan. The firm surmises that Apple's handset had a 39.3 percent share of U.S. smartphone sales in the June-August timeframe, up 540 bps over the same period last year. The U.K., at 27.5 percent, is Apple's strongest major European market. Furthermore, Apple was named the most valuable brand in the world by Interbrand.

Don't Miss: Is Debt Ceiling Drama a Bipartisan Effort?
Follow Eric on Twitter @Mr_Eric_WSCS