Radar Movers: Krispy Kreme and Guess Surge Higher, Apple Gains 1.5%
Shares of Lions Gate Entertainment (NYSE:LGF) jumped more than 3 percent in late afternoon hours. Excluding one-time items, the company reported earnings of 51 cents per share for its fiscal fourth quarter. Analysts only expected 44 cents per share. "We completed a stellar fiscal 2013 with an outstanding fourth quarter that reflected strong contributions from our young adult franchises as well as the rest of our theatrical slate and our home entertainment and international businesses," said Lions Gate CEO Jon Feltheimer.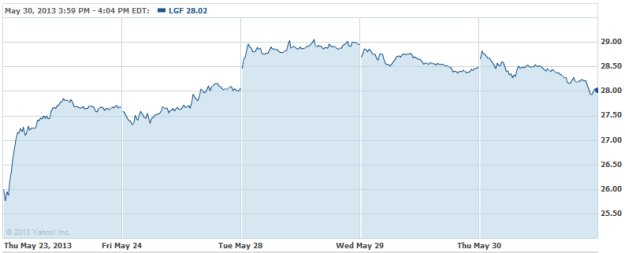 Krispy Kreme Doughnuts (NYSE:KKD) shares surged 10 percent in late afternoon trading. The company reported quarterly earnings of 20 cents per share, with revenue of $121 million. Analysts expected earnings of 17 cents per share, with revenue of $116 million.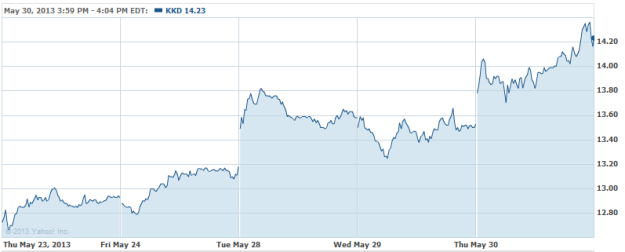 Shares of Guess (NYSE:GES) gained 9.1 percent in late afternoon hours. The clothing retailer reported adjusted quarterly earnings of 14 cents per share, easily beating estimates calling for only 8 cents per share. Paul Marciano, chief executive officer, explains, "Despite the continued global economic challenges, we are pleased to deliver better than expected first quarter earnings. These earnings reflect the ongoing success within the company to globally streamline and improve productivity."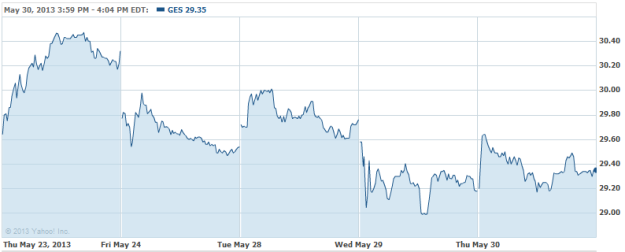 Apple (NASDAQ:AAPL) shares increased 1.5 percent on Thursday and continued to attract attention in late afternoon trading, despite any concerns over a cheaper iPhone being released. Citigroup analyst Glen Yeung believes that the introduction of a cheaper version of the iPhone will help drag Apple's gross margins down later this year. Yeung also believes that Apple may introduce a cheaper iPad model to counter the falling sales of the iPad mini. However, he believes that the overall mobile device market is inevitably trending towards cheaper devices. Shares of Google (NASDAQ:GOOG) finished the day about 0.30 percent in the green.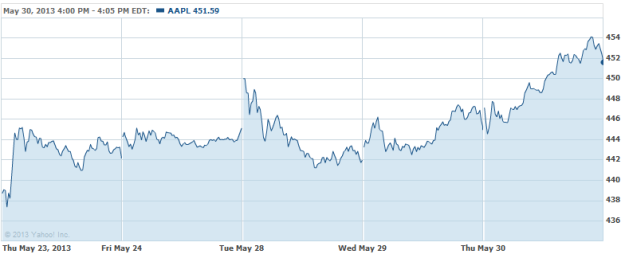 Don't Miss: How Badly Does America Need to Improve Its Financial Literacy?
Follow Eric on Twitter (@Mr_Eric_WSCS)