Radar Movers: LinkedIn Surges After Q4 Results, Apple's Cash Hoard in Question
Shares of LinkedIn (NYSE:LNKD) jumped more than 9 percent in late afternoon trading. The company announced it earned $11.5 million (10 cents per share) in the fourth quarter, compared to $6.9 million (6 cents per share) a year earlier. Revenue also surged 81 percent to $304 million. "2012 was a transformative year for LinkedIn," said Jeff Weiner, chief executive officer. "We exited 2011 having successfully revamped our underlying development infrastructure. Based on that investment, we said that 2012 would be a year of accelerated product innovation, and it was."

Coinstar (NASDAQ:CSTR) shares plunged 8 percent after posting a lower fourth quarter profit. The owner of Redbox announced that net income declined 27 percent to $22.9 million (75 cents per share), compared to $31.5 million ($1 per share) a year earlier. Sales rose 8.4 percent to $564.1 million, but missed the $580.2 million average estimate.

Shares of Activision Blizzard (NASDAQ:ATVI) increased 5.5 percent in late afternoon hours. The video game company announced quarterly adjusted earnings of 78 cents per share, above Wall Street's estimate of 72 cents per share. Revenue also improved from $2.41 billion to $2.60 billion. Shares of competitor Take-Two Interactive Software (NASDAQ:TTWO) were unchanged on the news.

Apple (NASDAQ:AAPL) shares climbed higher before the closing bell and finished the day 3 percent in the green, as the tech giant responded to ideas on how to return value to shareholders. Apple said in a press statement, "Apple's management team and Board of Directors have been in active discussions about returning additional cash to shareholders. As part of our review, we will thoroughly evaluate Greenlight Capital's current proposal to issue some form of preferred stock. We welcome Greenlight's views and the views of all of our shareholders."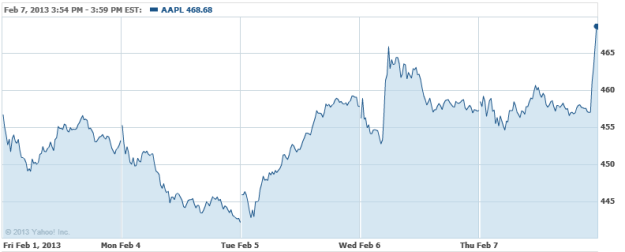 Don't Miss: What Does Apple Do With its Massive Cash Hoard?