Radar Movers: Lululemon Plunges 14%, Apple Fails to 'Wow' at WWDC
Shares of Lululemon Athletica (NASDAQ:LULU) plunged more than 14 percent in late afternoon hours. The yoga apparel company announced better-than-expected financial results for the first quarter. However, Christine Day will step down as the chief executive officer after more than five years in the role. "Being a part of Lululemon for the past five and a half years has been an incredible journey. I am proud of building a world class team that has produced one of the best growth, brand and profit stories in retail," said Ms. Day. "Plans have been laid for the next five years and a vision set for the next ten. Now is the right time to bring in a CEO who will drive the next phase of Lululemon's development and growth. I will continue to actively lead the organization while the Board searches for a new CEO, and will work to ensure a smooth transition."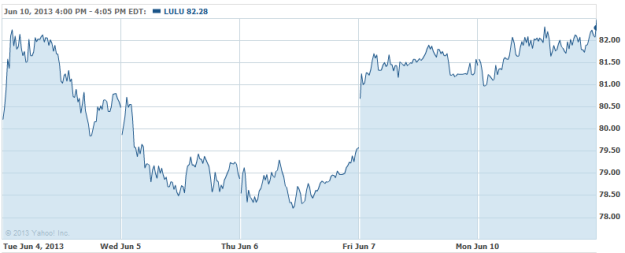 Texas Instruments (NYSE:TXN) shares declined nearly 2 percent in late afternoon hours. The company said it expects second-quarter earnings to come in between 39 cents and 43 cents per share. Analysts expected earnings of 42 cents per share.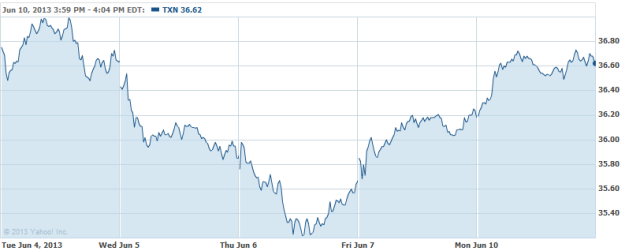 Shares of Microsoft (NASDAQ:MSFT) edged slightly lower on Monday and in late afternoon trading. The company's next generation gaming console – the Xbox One – will be available this November, but it will cost $499. The new device will also serve as a complete entertainment outlet. However, the price point is higher-than-expected and drawing criticism from gamers. Shares of Sony (NYSE:SNE) jumped almost 3 percent on Monday.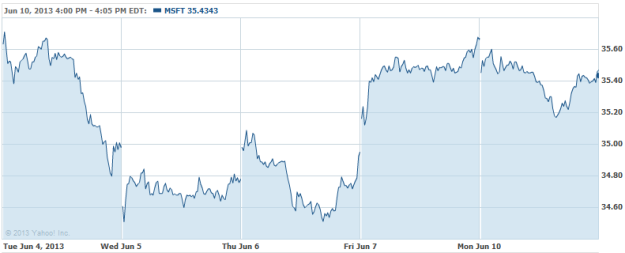 Apple (NASDAQ:AAPL) shares edged slightly lower in late afternoon hours. The tech giant unveiled a redesigned iOS and Mac Pro at WWDC. Apple also updated its Macbook Air lineup, and announced its highly anticipated iTunes Radio service. The new offerings were nothing for investors to get excited about, at least for now. Shares traded in positive territory before the end of the presentation, but gave up gains afterwards.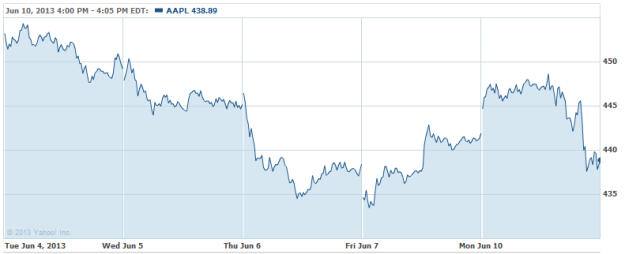 Don't Miss: Consumers and Investors Love These 5 Companies
Follow Eric on Twitter (@Mr_Eric_WSCS)