Radar Movers: Microsoft and Amazon Climb Higher, Zynga Surges 13%
Shares of Microsoft (NASDAQ:MSFT) increased 5 percent in late afternoon hours. Microsoft reported quarterly earnings of 62 cents per share on revenue of $18.53 billion. Analysts only expected Microsoft to earn 54 cents per share on revenue of $17.79 billion. "Our devices and services transformation is progressing and we are launching a wide range of compelling products and experiences this fall for both business and consumers," said Steve Ballmer, chief executive officer at Microsoft. "Our new commercial services will help us continue to outgrow the enterprise market, and we are seeing lots of consumer excitement for Xbox One, Surface 2 and Surface Pro 2, and the full spectrum of Windows 8.1 and Windows Phone devices." Microsoft shares are up about 31 percent year-to-date.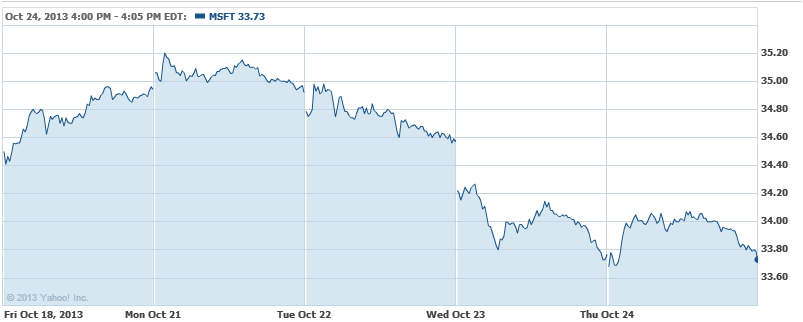 Amazon.com (NASDAQ:AMZN) shares surged 8 percent in late afternoon trading. Amazon reported a quarterly loss, but it was in line with expectations and revenue of $17.09 billion topped Wall Street's estimate of $16.77 billion. "It's been a busy few months—we launched a new Paperwhite and new Kindle Fires to positive reviews and surprised people with the revolutionary Mayday button—average Mayday response times are just 11 seconds," said Jeff Bezos, founder and chief executive officer of Amazon.com. Operating cash flow for Amazon also surged 48 percent to $4.98 billion for the trailing twelve months. Amazon shares are up 40 percent year-to-date.

Shares of Zynga (NASDAQ:ZNGA) popped 13 percent in late afternoon hours. Zynga reported a quarterly loss of 2 cents per share on revenue of $152 million, but Wall Street expected a loss of 4 cents per share on revenue of only $143 million. "I am pleased with our Q3 performance which exceeded our guidance both in terms of bookings and adjusted EBITDA. We are encouraged to see sightlines to growth and expect to be profitable for the full year on an adjusted EBITDA basis," said Don Mattrick, Chief Executive Officer, Zynga. "Our teams are working hard to compete more aggressively on the web, move to mobile and develop new hits, and I am happy with the early progress we have made. Zynga shares are up 63 percent year-to-date.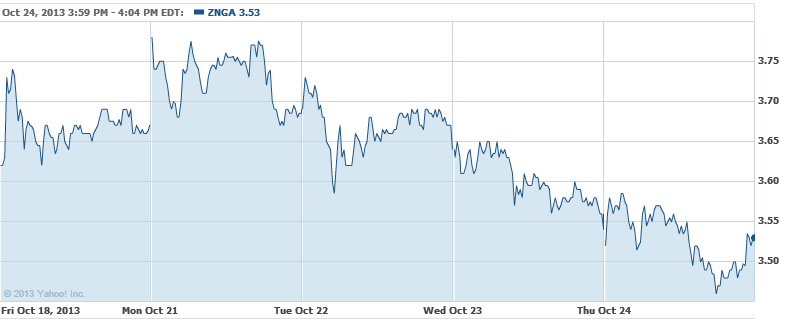 Apple (NASDAQ:AAPL) shares gained 1.3 percent on Thursday and continued to edge higher in late afternoon trading. Billionaire investor Carl Icahn outlined his case for an expansion of Apple's share buyback program in an open letter addressed to CEO Tim Cook that he posted on his new Shareholder's Square Table website. In the letter, Icahn argued that Apple should immediately announce a "$150 billion tender offer" at $525 per share, financed with funds borrowed at a 3 percent interest rate. Icahn noted that S&P 500 companies trade at around 14x forward earnings, while Apple trades at only 9x earnings after backing off net cash. Apple shares are flat for the year.

Don't Miss: Will the Middle Class Ever Get to Retire?
Follow Eric on Twitter @Mr_Eric_WSCS