Radar Movers: Pandora Jumps 9%, Apple's iPad Still Dominates E-Commerce
Shares of Hewlett-Packard (NYSE:HPQ) surged 17.1 percent on Thursday, its best single-day performance in over a decade, and shares continued to edge higher in late afternoon hours. H-P reported financial results for the second quarter late Wednesday. Net income fell to $1.08 billion (55 cents per share), compared to $1.59 billion (80 cents per share) a year earlier. However, the company raised the lower end of its full-year outlook by 10 cents to $3.50 per share to $3.60 per share.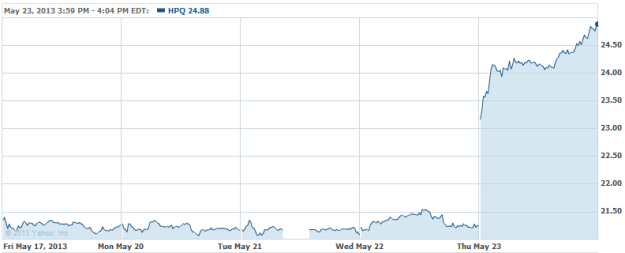 Pandora Media (NYSE:P) shares jumped 9 percent in late afternoon trading. The streaming music company reported revenue of $125.5 million in the recent quarter, higher than the $123.9 million expected by Wall Street. "Pandora continues to expand its mobile leadership," stated Joe Kennedy, Pandora CEO. "Mobile listening hours and mobile ad revenue reached record highs, with growth in mobile ad revenue exceeding growth in mobile listening hours. During the quarter, we successfully implemented a mobile listening limit, enabling us to manage our content acquisition costs with minimal impact on listenership or revenue growth."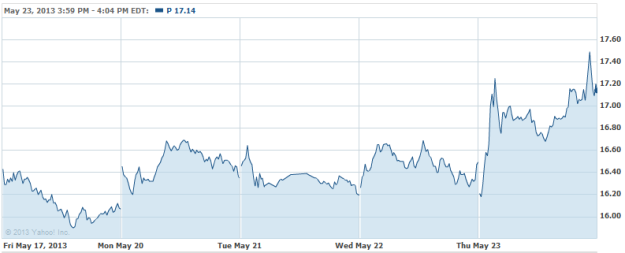 Shares of Sears Holdings (NASDAQ:SHLD) plunged more than 12 percent in late afternoon hours. The retailer reported a quarterly net loss of $279 million ($2.63 per share), compared to a profit of $189 million ($1.78 per share) a year earlier. Excluding items, Sears posted a loss of $1.29 per share, far worse than the 60 cent loss expected by analysts.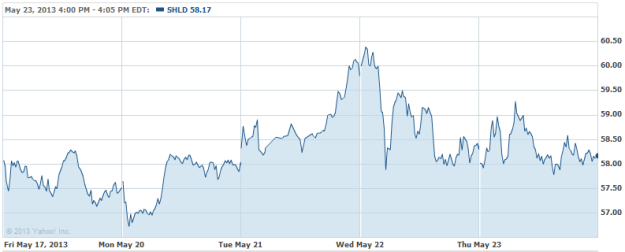 Apple (NASDAQ:AAPL) shares edged slightly higher on Thursday, as the latest report from Monetate finds that the iPad accounts for 89.28 percent of e-commerce website traffic. Google's (NASDAQ:GOOG) Android came in second with 8.20 percent. Apple's tablet also beats every other platform on a money per user basis.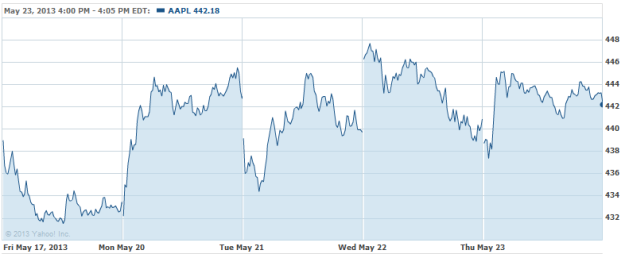 Don't Miss: Watch Out For These Hazardous Retirement Potholes
Follow Eric on Twitter (@Mr_Eric_WSCS)