Radar Movers: Qualcomm and Whole Foods Sink, American Eagle Soars 12%
Shares of Whole Foods Market (NASDAQ:WFM) plunged 8 percent in late afternoon trading. Whole Foods Market reported quarterly earnings of 32 cents per share on revenue of $2.98 billion. That was below Wall Street's estimate of 31 cents per share on revenue of $3.04 billion. Whole Foods Market also reduced its outlook for the coming year, but remains optimistic. "We reported record fourth quarter operating results which contributed to the best fiscal year performance in our Company's 35-year history. For the last four years, we have increased our new store openings while producing improvements in operating margin and higher returns on invested capital, and we expect these trends to continue in fiscal year 2014," said John Mackey, co-founder and co-chief executive officer of Whole Foods Market.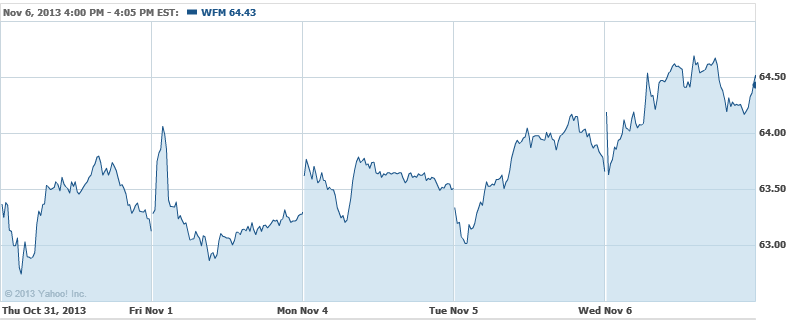 Qualcomm (NASDAQ:QCOM) shares fell more than 4 percent in late afternoon hours. Qualcomm reported quarterly earnings of $1.05 per share on revenue of $4.51 billion, compared to estimates for $1.08 per share on revenue of $6.35 billion. "I am very pleased with our record financial performance this year as we delivered revenues of $25 billion, up 30 percent versus last year. Our technologies underpin the global growth of wireless data, and our semiconductor solutions are used across the industry's flagship smartphones," said Dr. Paul E. Jacobs, Qualcomm CEO. "Looking forward, we expect continued strong growth of 3G and 3G/4G multimode devices around the world, particularly in China with the anticipated launch of LTE. Qualcomm remains well positioned from a growth standpoint."

Shares of Apple (NASDAQ:AAPL) edged slightly lower on Wednesday, but the tech giant appears set to launch multiple iPhones next year. Morgan Stanley Apple watcher, Katy Hubert, now predicts that the tech company will increase the frequency with which it updates its handsets, and it is all thanks to the latest iPhone lineup split. Back in September, Apple announced the launch of its new iPhone 5S, along with the so-called low-cost iPhone 5C, and the twin rollout showed the company's newest strategy to offer consumers a high-end flagship model along with a more affordable, mid-range device. According to Apple Insider, this new scheme was praised by many analysts upon its reveal, and Hubert now calls the iPhone line divergence "a thoughtful approach," as she recognizes that it facilitates "multiple refreshes per year." Apple Insider reports that Hubert met with Apple CEO Tim Cook and CFO Peter Oppenheimer before she reported her expectations about the twin iPhone cycles, and she likened the dual launch of the iPhones to the iPad 3 and iPad 4 rollout last year.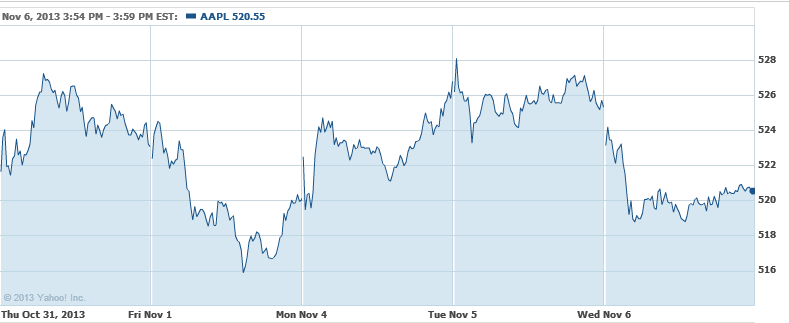 American Eagle Outfitters (NYSE:AEO) shares soared 12 percent in late afternoon trading. American Eagle Outfitters raised its third-quarter earnings guidance to 19 cents per share on revenue of $857 million, compared to expectations of 15 cents per share on revenue of $841 million. "Our third quarter results are clearly unsatisfactory. Yet, in an extremely challenging environment, our bottom line results are slightly ahead of our prior expectations and we ended the period with clean inventory," explained American Eagle Outfitters CEO Robert Hanson. "We remain highly focused on strengthening our merchandising, marketing and customer service execution, while maintaining disciplined inventory and expense management."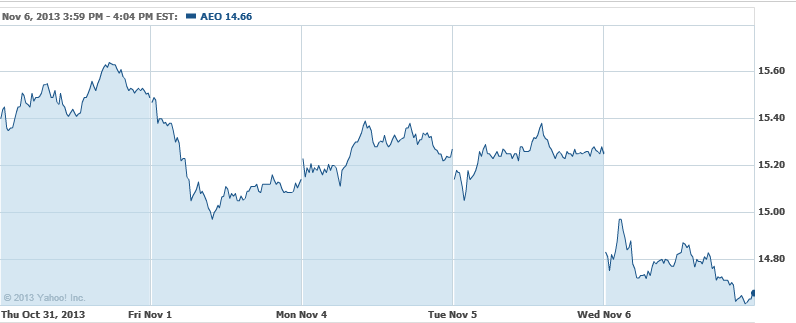 Don't Miss: Top 10 States Where Home Prices Are Surging
Follow Eric on Twitter @Mr_Eric_WSCS