Radar Movers: Red Hat Plunges 11%, BlackBerry Ignores Short-Sellers
Shares of Red Hat (NYSE:RHT) plunged more than 11 percent in late afternoon hours. The commercial distributor of Linux reported a fourth quarter profit of $43 million (22 cents per share), compared to $36 million (18 cents per share) a year earlier. Revenue jumped 17 percent to $348 million. However, analysts were expecting earnings of 30 cents per share on revenue $349 million in revenue.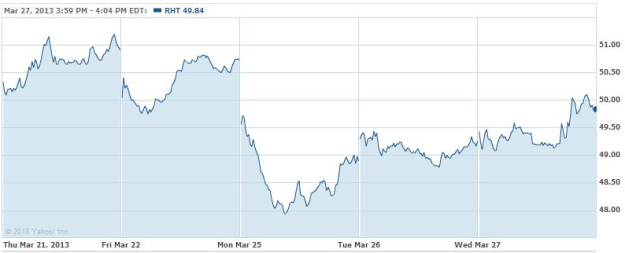 BlackBerry (NASDAQ:BBRY) shares gained nearly 1 percent on Wednesday and continue to edge higher in late afternoon trading, despite record short interest. Short-sellers appear to believe that the recent rebound in BlackBerry is temporary. Analysts polled by Thomson Reuters have estimated that BlackBerry will report a loss of 29 cents per share on revenue of $2.84 billion. In the combined Canadian and New York stock listings, the percentage of shares on loan — a proxy for short-selling activity — rests at approximately 30 percent, noted the publication on Wednesday. This number marks a record high for the BlackBerry manufacturer, according to data from securities financing tracker Markit.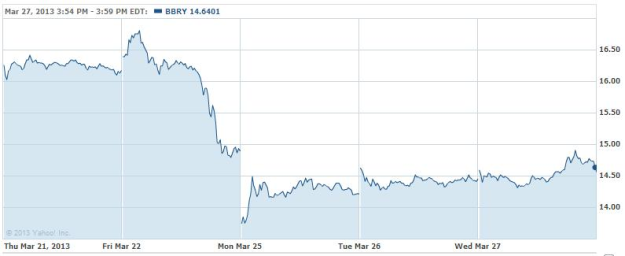 Shares of Apple (NASDAQ:AAPL) dipped 2 percent on Wednesday, as analysts are still trying to get their estimates right for the tech giant. Pacific Crest analyst Andy Hargreaves cut his second fiscal quarter forecast to $41.1 billion and $9.60 per share in net profit from a prior $41.8 billion and $9.89 per share. The average estimate for the company's current quarter is slightly higher, at $42.77 billion and $10.14 per share. The analyst also took an ax to his fourth quarter expectations, cutting his estimate to $33.5 billion and $7.16 per share from a prior $37.1 billion and $8.32 per share. Once again his forecast is below the average consensus for $39.78 billion and $9.41 per share. Google (NASDAQ:GOOG) shares also traded lower.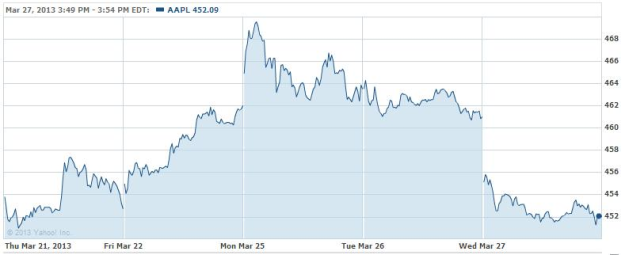 Oracle (NASDAQ:ORCL) shares gained 1.3 percent on Wednesday, but edged lower in late afternoon hours. The company recently unveiled its latest line of servers aimed at combating sliding hardware sales and regaining market share held mostly by IBM (NYSE:IBM).The new products rely on technology acquired from the Sun Microsystems purchase that Oracle made in 2010. The servers — there are two, a mid-range computer and a high-end model — use the T5 chip and M5 chip, respectively. Founder and CEO Larry Ellison and John Fowler, Executive Vice President of Systems, presented the products.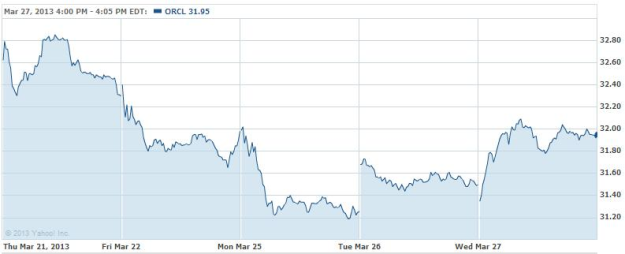 Don't Miss: Is the College Debt Bubble Finally Bursting?