Radar Movers: Salesforce Jumps 8%, T-Mobile Gets Ready for Apple's New iPhone
Krispy Kreme Doughnuts (NYSE:KKD) plunged more than 13 percent in late afternoon trading. The company missed second-quarter earnings estimates. However, revenue increased 10 percent to $112.7 million, compared to estimates for $111.4 million. Krispy Kreme also reiterated its full-year outlook.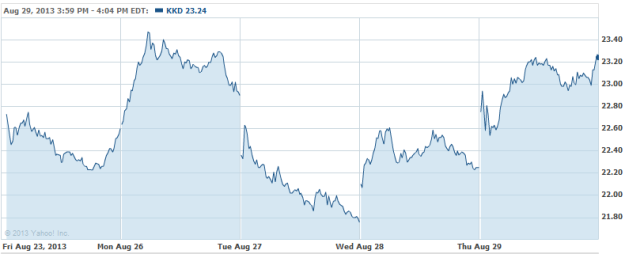 Shares of Ford (NYSE:F) jumped 3 percent on Thursday and continued to attract attention in late afternoon hours. Spurred on by 1,400 new employees and a $555-million investment, the new Ford Fusion launched at the Flat Rock Assembly Plant, representing the first time the vehicle has been built in the United States. Excess demand has helped the domestic Fusion sales to jump by 13 percent in 2013. Ford will hire close to 6,500 workers in the United States this year to support new products, growth, and investment.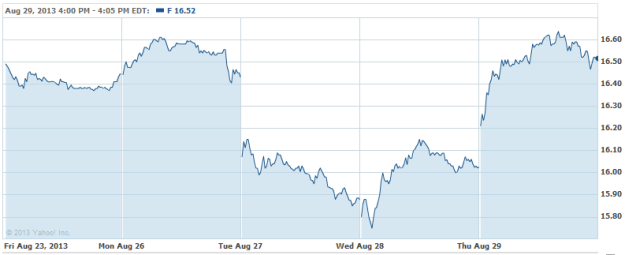 Shares of Salesforce.com (NYSE:CRM) jumped 8 percent in late afternoon hours. The company reported quarterly earnings of 9 cents per share excluding items, 2 cents better than expected. Revenue of $957 million also topped estimates calling for $939.2 million. "Salesforce.com continues to be the fastest growing software company of its size with year-over-year growth of more than 30 percent in revenue, deferred revenue, and operating cash flow," said Marc Benioff, chairman and chief executive officer.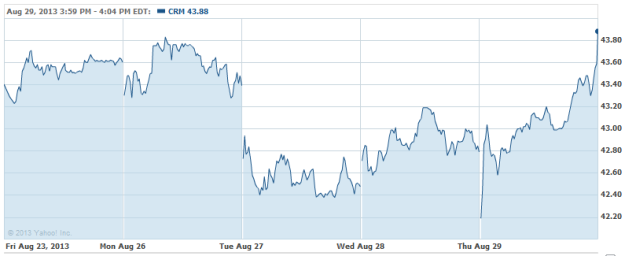 Apple (NASDAQ:AAPL) shares edged slightly higher on Thursday and in late afternoon trading. A blackout for employee vacation time at T-Mobile US (NYSE:TMUS) from September 20 to September 22 seems to imply an iPhone release date for the carrier during that time frame, CNET says, pointing out that employee blackouts can oftentimes be a good indicator of when a major product is expected to launch. It's widely believed that Apple will be debuting the new phones around September 10, making a 10-day to two-week timeframe for a retail rollout.

Don't Miss: Top 10 Cities with Booming House Prices
Follow Eric on Twitter @Mr_Eric_WSCS